Smile Makeover: Why Use Porcelain Veneers in Cosmetic Dentistry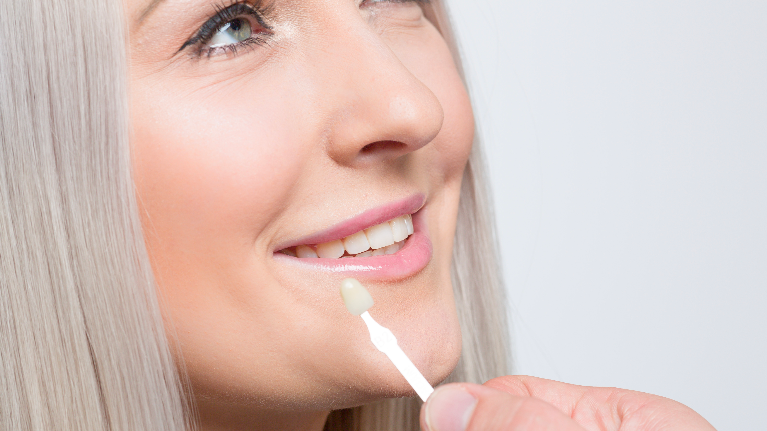 Porcelain veneers in cosmetic dentistry are a versatile treatment that  can fix a multitude of dental issues. If you're dealing with stains that won't go away, chipped or cracked teeth, or ready for a complete smile makeover, porcelain veneers are a wonderful option for restoring and enhancing your smile. It's really no wonder that dentists and patients are huge fans of porcelain veneers as a cosmetic dentistry treatment!
Learn more from WebMD in this article explaining Veneers.  
Veneers in Cosmetic Dentistry
The primary reason that porcelain veneers are recommended by dentists is for cosmetic reasons. Porcelain veneers in cosmetic dentistry are extremely reliable and can improve a multitude of cosmetic concerns. In fact, porcelain veneers are often called "Hollywood teeth" because they create realistic, beautiful smiles, and are popular among celebrities. Porcelain veneers have multiple advantages, such as:
Versatile:

Porcelain veneers are created to match the shade and shape of someone's teeth, making them look natural. They also provide structural support to damaged teeth and can last for decades. 

Conservative:

We only have to remove a small amount of enamel to adhere the porcelain veneer to the tooth. 

Fixes Cosmetic Issues:

Porcelain veneers can fix gaps in teeth, missing teeth, chipped or broken teeth, and stained/discolored teeth. 

Durable:

Porcelain veneers can withstand stains and decay better than our natural teeth. As long as you can take care of your porcelain veneers, they will last for many years to come. 

Easy Maintenance:

Taking care of your porcelain veneers is as simple as taking care of your natural teeth. Brush twice a day to avoid bacteria and plaque build-up, and floss once daily. 
Related Article: Get a Smile Update with Cosmetic Dentistry Options
Porcelain Veneers Explained 
To get started on your porcelain veneer journey, call our office and we can walk you through our cosmetic options and can help you decide if porcelain veneers are the best way to improve your smile. One way to think of porcelain veneers is to think of them like clip-on nails, but permanent.
According to WebMD:
"Dental veneers (sometimes called porcelain veneers or dental porcelain laminates) are wafer-thin, custom-made shells of tooth-colored materials designed to cover the front surface of teeth to improve your appearance. These shells are bonded to the front of the teeth changing their color, shape, size, or length." 
Related Article: Smile Makeovers Incorporate Restorative and Cosmetic Dentistry   
Usually, installing porcelain veneers takes three trips to the dentist. One for a consultation and two for the making and applying of the veneers. We will examine your teeth, possibly take X-rays, take a digital impression of your teeth, and then prepare your teeth for the veneers. Once your teeth are prepared, your porcelain veneers will be added to the surface of the tooth. 
Related Article: Step by Step Veneers Explained.  
Here are Smile Spotlights we've created with our patients using porcelain veneers in cosmetic dentistry:
How Do You Get Porcelain Veneers?
As we mentioned earlier, before getting veneers, you'll have an initial appointment with your dentist to discuss which options are best for you. Your dentist will possibly take X-rays to determine the best procedure plan and see if you are experiencing any tooth decay or gum disease that may not make veneers the best option for you.
Then, your dentist will trim down a small amount of your tooth, about half of a millimeter, and take an impression of your teeth to get the sizing accurate for your veneers. After that, your porcelain veneers will be created in the lab! Your perfect smile is just around the corner, and your veneers will be bonded to your teeth using a special adhesive.
Taking Care of Porcelain Veneers
Porcelain veneers are not high maintenance and do not require any special care. To keep your smile in tip-top shape, continue with your normal oral hygiene routine of brushing and flossing daily and seeing your dentist on a regular basis.
However, if you want to preserve your veneers for the longest amount of time, we recommend:
Wearing a mouth guard during contact sports
Protect your teeth at night if you grind them
Do not use your teeth to open packages
Try not to chew on hard items such as nails
We know that no one wants unnatural-looking teeth, and that's why we use the latest technology to create custom porcelain veneers in cosmetic dentistry treatments to enhance your smile without anyone noticing!
How Does a Smile Makeover Help?
As we've focused this blog on porcelain veneers, many enhancement services, such as Invisalign invisible braces, and implants can help with functionality, as well as a beautiful appearance. A complete smile makeover can target:
Misalignment: Both porcelain veneers and Invisalign aligners target misaligned or crooked teeth. Invisalign aligners will move the teeth you have and put them into proper alignment over the span of a few weeks or months. Porcelain veneers can fix crooked teeth by putting the new shell on top of the crooked tooth. Veneers can be put on a single tooth, or multiple teeth.
Missing teeth: Missing teeth can take away from your youthful appearance and make you look older than you are; thy can also increase the risk of decay. Dental implants, bridges, and dentures are wonderful ways to restore your full smile.
Discolored teeth: Years of stains can take a toll on the whiteness of your teeth. Professional whitening services go above and beyond over-the-counter remedies and remove stains from within the tooth. Porcelain veneers can also be used to improve dull, discolored teeth, all while looking natural and bright.
With every restorative and cosmetic dentistry treatment, it's important to know how big of an impact good oral hygiene is. With every treatment, you'll receive the best, and longest lasting results when you stick to a daily hygiene routine and regularly check in with your dentist.
Trust the Experts at the offices of Thomas L. Anderson, DDS and Associates with Your Smile Makeover
Although a smile makeover can give you the smile of your dreams, your health habits can change how long they last. When you undergo a smile makeover and keep up with your regular cleanings, you'll have a smile you can be confident and proud of forever! At the offices of Thomas L. Anderson, DDS and Associates, we will work closely with you to help you reach your smile goals and create a treatment plan customized for you.
Contact us today to schedule your dental appointment and meet with our skilled dentists at one of our three conveniently located dental office locations within the Kansas City area, including Lee's Summit / Independence, the Country Club Plaza and Downtown Kansas City. The gentle dentists and expert team at Thomas L. Anderson and Associates look forward to working with you to treat your dental emergency, achieve proper oral health and a beautiful smile that will last a lifetime. If you have any questions about your dental insurance benefits, please do not hesitate to contact us.  We are happy to review your policy! Please give us a call today to schedule an appointment and become part of our dental family.