Smile Spotlight: Carmen | Porcelain Crowns Transform Worn Teeth
CASE STUDY | Teeth Grinding
Patient: Carmen, 68 Years
Problem: Hiding her smile due to Cracked & Stained Teeth
Solution: 10 Porcelain Crowns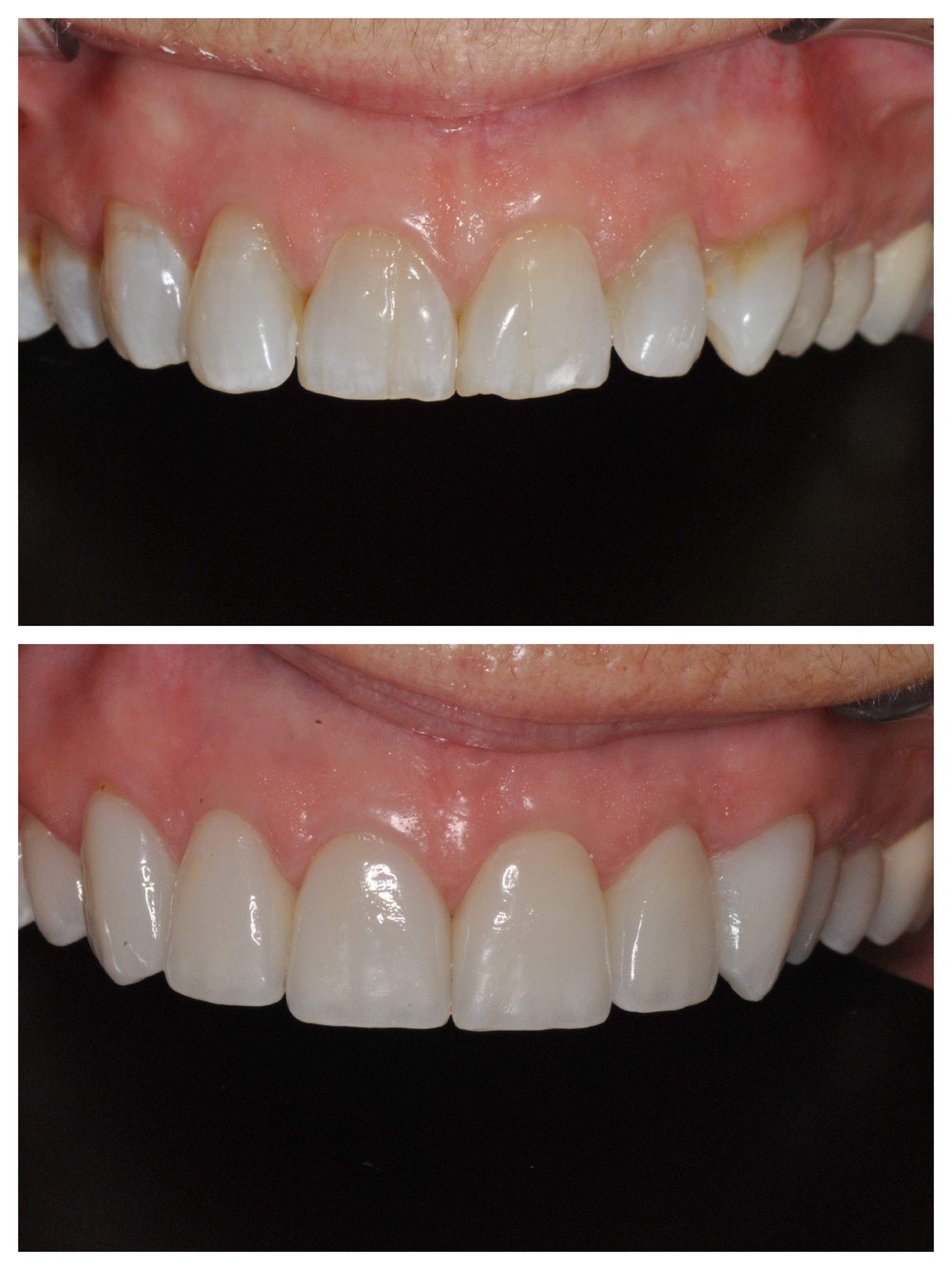 We'd like to introduce you to Carmen…
Problem:
Carmen decided it was time for a smile makeover when she realized that she was hiding her smile. She didn't much care for her smile anymore, as it had become worn over the years. When she looked in the mirror she noticed years of wear and tear, and staining had left her teeth cracked, yellow, and crumbling. Her concerns were understandable. We further noted the triangular shape of her to front teeth that created an older and worn appearance. This blow to her self-confidence left this friendly, vibrant, socially outgoing woman covering her mouth as she smiled or worse yet … NOT smiling at all.
Solution:
Carmen is a long-time patient at our office and when she called to schedule an appointment for a Smile Consultation, she confided in us and explained how her worn smile was making her feel.  So, we got to work!
After careful examination, dental X-rays, dental photography, study models, and case planning we were ready to meet with Carmen to discuss our treatment recommendations to restore her smile. It was decided that in order to restore Carmen's teeth, 10 all-porcelain crowns would need to be created. We discussed the shade of her teeth and picked a lighter, but natural-looking color. We also agreed that in order to create more fullness of the teeth at the gum-line level, adding a slight amount of length to her teeth would give her a more natural appearance and restore the areas of her teeth that had been chipped away.
Process:
Pre-planning a smile is of vital importance in all cases; however, it was extremely important in Carmen's case to really study her smile after her initial appointment and take into consideration what was most important to her: a natural, beautiful, youthful smile that she was confident to show, so her true personality.
Outcome:
We placed 10 porcelain crowns to Carmen's upper, front teeth and now … She LOVES Her Smile! Check out the difference in her actual smile in the lower photos:
The before photo (top picture): her teeth were showing lots of cracking, yellow staining and chipping, which made her feel as if her smile was "crumbling". Carmen's smile in her before photo is something we see a lot: time taking it's natural toll. We don't realize how much work our teeth do for us in just one day, little lone over a period of fifty years!
The after photo (bottom picture): shows Carmen's transformed smile! Her hand-crafted porcelain crowns  were customized to create a whiter, yet natural, more symmetrical and youthful smile. Notice how healthy Carmen's teeth, gums and smile look AND how natural her teeth look.
It's important that you know: These restorations were placed 15 years ago! Her after photo (bottom picture) was taken 1 year ago! Isn't that amazing? Just because time takes a natural toll to our smile, doesn't mean that we have to like it OR that we have to live with it! A smile transformation, like Carmen's, is a long-term solution — not a short-term fix. After 15 years, they still look brand new.
Please understand, these photos are not altered, filtered, or touched up in any way. We feel that showing true closeup photos of our patient's smiles display the transformative level of care, detail and craftsmanship that we provide our patients. This type of transformation includes our patient, our laboratory artist, and our experienced dental team working closely together to create and achieve phenomenal results.
Carmen's smile spotlights the art and science of the cosmetic dentistry options that we offer at the offices of Thomas L. Anderson, DDS and Associates. If you are considering a smile makeover, we encourage you to compare the results you see here and in other Smile Spotlight cases that we've featured below with the results of other cosmetic dentists that you may be considering.
We'd love for you to see a few of the other Smile Spotlights we've created with our patients:
We have many more stories to share … just ask us!!
Smile Makeover Treatments: Porcelain Crowns
Knowing that you need a dental crown can seem like unfortunate news, but, thankfully, porcelain crowns can restore your oral health and provide numerous advantages. Essentially, a dental crown restores a tooth that has been damaged, and the treatment has been very effective.
Related Article: What are the 5 Steps to Getting a Dental Crown Procedure?
How Porcelain Crowns Can Help
Porcelain crowns are long-term, durable options for a wide range of dental problems, usually lasting between 5-15 plus years and can improve the strength and appearance of teeth. Teeth that contain cracks, have a broken-down root, or has had a root canal performed may need a dental crown to reinforce the tooth and strengthen the surrounding area of the mouth. Along with strengthening and restoring, porcelain dental crowns have multiple advantages, such as:
Change the appearance of a tooth by altering its shape and color: Crowns can improve the look of your smile – helping the appearance of any misshapen, broken teeth, or dental implants and can help you get the smile you've been dreaming of.
Protecting a tooth from being damaged further: Broken or misshapen teeth can impact your bite and the overall health of your mouth. Crowns eliminate further damage by fixing the problem before more damage can occur.
Uses safe porcelain material that is FDA approved and non-harmful for patients: Porcelain crowns are known to be the most comfortable options for a patient's mouth and are free of any harmful or toxic materials.
Durable and stain resistant: Porcelain crowns are known to last for many years and are extremely stain resistant, helping your smile stay protected and spotless for a long time.
Along with plentiful advantages, the risks of porcelain crowns are also very low. At Thomas L. Anderson, DDS and Associates, we want to help restore your comfort and your smile with our porcelain dental crowns. Give us a call today to learn more about our helpful options.
When to Know if You Need Dental Crowns
Dental crowns are one way you can help to restore your teeth. A crown is a cap that is used as a replacement piece for your broken or misshapen tooth. Dental crowns can also be used when a tooth is discolored.
Dental crowns are often used after a root canal or large filling or to help reshape a broken tooth. A dental crown aims to rebuild the tooth so that it has the proper appearance and function. When a crown is used, and the procedure is done well, you can hardly tell the difference.
Whether or not you need a dental crown depends on the function and state of your teeth. If you have quite a few broken teeth, require a root canal procedure, or are having a large filling done, a dental crown will likely be an option to help restore those teeth.
What can a Smile Makeover Improve?
Many enhancement treatments, such as veneers, invisible braces, and implants can help with functionality, as well as a beautiful appearance. A complete smile makeover can target:
Misalignment: Both porcelain veneers and Invisalign aligners target misaligned or crooked teeth. Invisalign aligners will move the teeth you have and put them into proper alignment over the span of a few weeks or months. Porcelain veneers can fix crooked teeth by putting the new shell on top of the crooked tooth. Veneers can be put on a single tooth, or multiple teeth.
Missing teeth: Missing teeth can take away from your youthful appearance and make you look older than you are; thy can also increase the risk of decay. Dental implants, bridges, and dentures are wonderful ways to restore your full smile.
Discolored teeth: Years of stains can take a toll on the whiteness of your teeth. Professional whitening services go above and beyond over-the-counter remedies and remove stains from within the tooth. Porcelain veneers can also be used to improve dull, discolored teeth, all while looking natural and bright.
With every restorative and enhancing treatment, it's important to know how big of an impact good oral hygiene is to the longevity of your treatment. With each restoration, you'll receive the best, and longest lasting results when you stick to a daily hygiene routine and regularly check in with your dentist.
The future of Cosmetic Dentistry…
In most situations, people choose a smile makeover with cosmetic dentistry for aesthetic improvement or personal preference. Many, like Carmen, wish to enhance their smile to increase their self-confidence and change how they navigate social settings. As opposed to hiding their smile, patients who receive a smile makeover can smile brightly.
Many times, combining cosmetic dentistry procedures is ideal in a customized smile makeover to create a treatment plan that is bests suited for each individual patient. A smile makeover can provide immediate improvement, allowing patients to see a new smile in a very short period of time.
Related Article: How We Can Restore Your Smile
While the cosmetic dentistry trend has remained popular over the past decade, enhancements in technology have helped many dental offices, like Dr. Anderson's, to streamline their treatment options and offer the best services, based on the needs of each patient.
Contact us today to schedule your dental appointment and meet with our skilled dentists at one of our three conveniently located dental office locations within the Kansas City area, including Lee's Summit / Independence, the Country Club Plaza and Downtown Kansas City. The gentle dentists and expert team at Thomas L. Anderson and Associates look forward to working with you to treat your dental emergency, achieve proper oral health and a beautiful smile that will last a lifetime. If you have any questions about your dental insurance benefits, please do not hesitate to contact us.  We are happy to review your policy! Please give us a call today to schedule an appointment and become part of our dental family.