Smile Spotlight: Carla | Do You Have Tetracycline Stained Teeth?
CASE STUDY | Porcelain Veneers
Patient: Carla, 60 Years
Problem: Did not like to smile because her 30-year old veneers needed to get a Tech Update
Solution: 6 Porcelain Veneers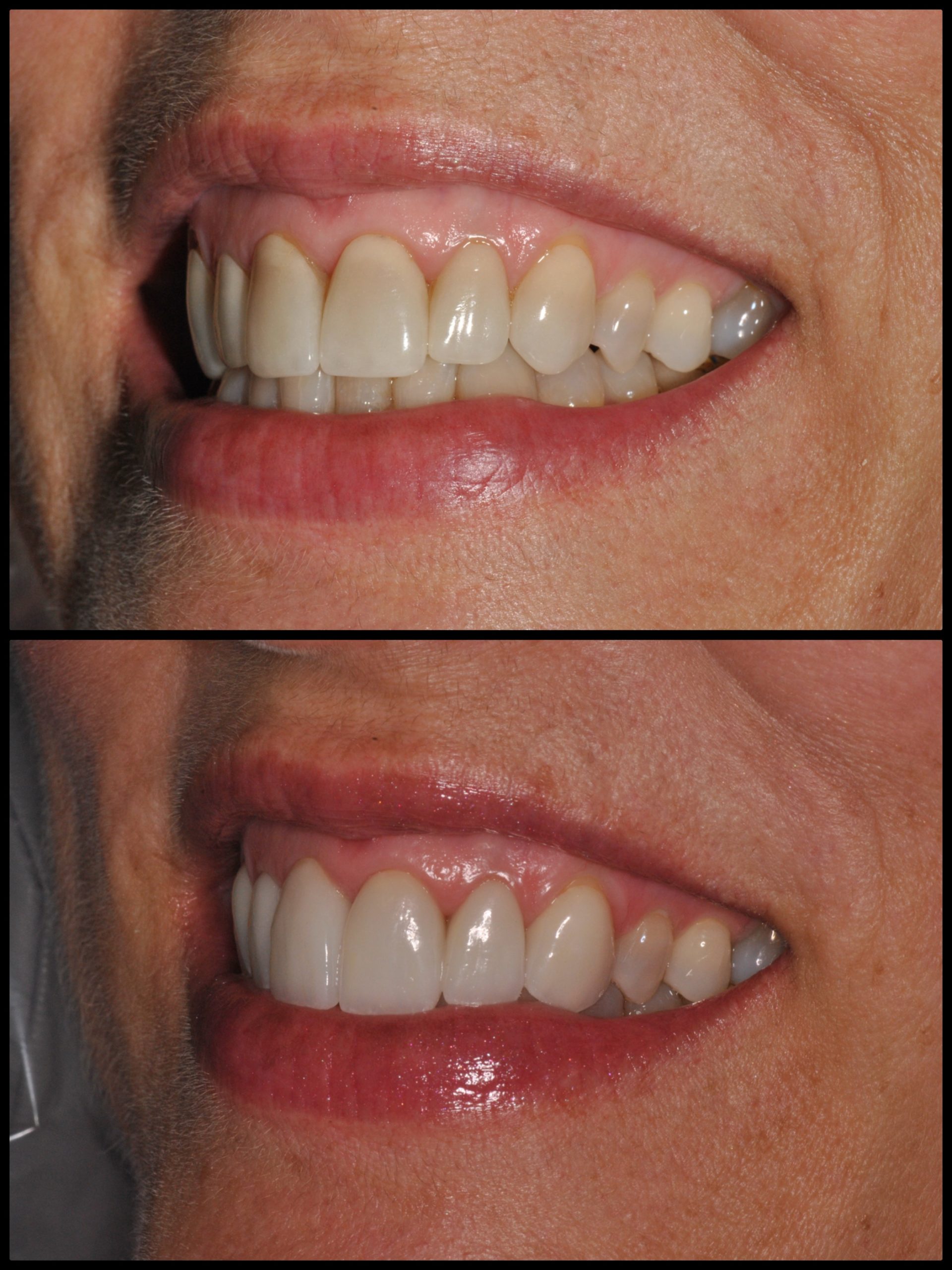 We'd like to introduce you to Carla …
Problem:
At the age of 30, Carla got 6 veneers to cover her Tetracycline stained teeth she's had since childhood. (Tetracycline is an antibiotic used in the 60's to treat infections that caused permanent discoloration in teeth, making them a brownish grey color). 30 years later, Carla decided she was ready for her 30-year-old veneers to get an update, because her smile seemed to be yellow & dingy and not as life like & natural as wanted.
Solution:
Carla's consultation with Dr. Anderson included a conversation about how much dental technology has advanced in the past 30 years. She spent half of her life with her original veneers and loved her smile. But, over the past few years, she noticed that her veneers were looking yellow & dingy and the color was not as even as it had once been. Before her consultation, she didn't realize she could have her smile updated with the most cutting-edge dental technology available for porcelain veneers that would reinvigorate her smile. That's when she made the decision to replace her original 6 veneers with new porcelain veneers on her front teeth and get the smile she really wanted.
Process:
It's amazing to see the transformation to Carla's smile by replacing these 6 porcelain veneers. Look at the differences it made to the appearance of her front teeth:
No more dingy smile with uneven coloring, due to Tetracycline stained teeth: Her smile is brighter and whiter.
No more thick-looking front teeth: Her teeth are natural looking and beautiful.
No more dark area between her teeth and gum line: Her gums look healthy and her teeth are a beautiful white throughout each tooth.
Upper picture (before photo) shows the dark discoloration around gum line and uneven color throughout original veneers
Bottom picture is the final image of the 6 new porcelain veneers showing Carla's natural and beautiful smile.

Notice the level of detail and craftsmanship that can be achieved with porcelain veneers.
Porcelain Veneers are a more natural-looking cosmetic dentistry option.
Porcelain Veneers can cover teeth that are severely discolored or misshapen.
Porcelain Veneers can improve the symmetry of a smile.
Outcome:
These before and after images show the results of Carla's updated smile with her new porcelain veneers. Like everyone, Carla wanted to feel beautiful and confident when she smiles. This is not a unique situation, as a beautiful smile is so very important to everyone, regardless of their age.
Related Articles:
We Believe: Everyone Should Want to Share Their Smile with the World  
Technology is constantly changing, and it is important to Dr. Anderson and his team of dental professionals to stay on the cutting edge of dental updates, that include new products, technology and options for procedures. From in-office whitening products to cosmetic dentistry options – the offices of Thomas L. Anderson, DDS and Associates are constantly learning and fine-tuning the art and science of their dental craft to deliver the results their patients want.
Whether their patients are gearing up for a big event (think Mother of the Bride) or they just want to feel more confident when they smile, Dr. Anderson's team takes the time to consult with each patient and understand what they like and don't like about their current smile and the result they want. Then, custom options are discussed, questions are answered and the process to achieving the smile of their dreams is put into action.
We love to enhance the smiles of our patients – because we love to see them smile! That is why we love dentistry: Our Patients. We are rewarded every day by helping them have a healthy smile that they love to show others. We believe that we all need share our smiles right now and always, because that's how we show others our joy, compassion and love for one another. If you're not happy with your smile, for any reason, we hope you'll visit us, so we can understand what you do and don't like about your current smile and how you'd like to see it transform, with a little help!
If you'd like to look at another one of our SMILE SPOTLIGHT patients who had Porcelain Veneers, check out Ann's Story.
Was Your Smile Permanently Discolored Due to Tetracycline?
Some of the most difficult stains to remove from teeth are from Tetracycline because the stain is deep in the surface of the tooth and is irreversible.
What is Tetracycline Staining?
Tetracycline stained teeth is the discoloration of the teeth because of exposure to tetracycline antibiotics, commonly used to treat bacterial infections, during dental development. Depending on the circumstances of the exposure, the teeth can be yellow, brown, greenish, or gray, and may have bands or pits. This happens because the tetracycline deposits in layers of tooth enamel and becomes a permanent part of the tooth. Even if future layers of enamel cover the Tetracycline, the discoloration usually shows through.
Not All Discoloration is Created Equally
Many adults hide their smile or try not to smile at all when they have discolored teeth. Many discolorations can be caused by staining drinks, foods, and/or habits like smoking. These stains stay mostly on the surface of the teeth, unlike those caused by Tetracycline.
How Does Tetracycline Stain the Teeth?
Because of the side effects, Tetracycline is rarely used now; however, thousands of adults have the discoloration on their teeth and no answers as to how to remove it.
If pregnant women take tetracycline during the last half of pregnancy, the baby can have tetracycline staining. Although babies do not have visible teeth at birth, the foundation has already been laid in the jaw, and as the teeth develop, staining will be apparent.
Children who take Tetracycline for childhood illnesses can also experience changes in the color of their teeth, as their teeth are still growing and developing under the gums.
The medicine calcifies in the teeth. Then, as the baby teeth grow out, the permanent Tetracycline stained teeth move into position as they get older.
As an adult, they must deal with the ugly aftermath of the stained teeth. The colors of the stain vary from light to dark yellows, browns, and purplish colors. Some teeth have large white spots, translucent edges, or bands of different yellows or browns.
Treatment for Tetracycline Stained Teeth: Porcelain Veneers
We have found that porcelain veneers are an option for patients to consider, especially if they have Tetracycline stained teeth. Veneers can cap, or cover, the teeth and change their appearance. If the patient also has concerns about the length of their teeth, chips or other problems, veneers are a comprehensive solution.
For Tetracycline staining, veneers need to be carefully designed to make sure they totally cover the discoloration, as it is often very deep and can show through thin or poorly made coverings. A cosmetic dentist can evaluate a patient and provide recommendations for treatment based on the level of damage.
Are You Curious About Porcelain Veneers?
Let's dive into some frequently asked questions to answer all your inquiries.
  Q: What are porcelain dental veneers?
A: Porcelain veneers are thin, shell-type coverings that are adhered to the top of your tooth. Your dentist will take impressions of your tooth to create the correct sizing. Once the veneer is made, your dentist will shave off a very small portion on the front area of your tooth and adhere the veneer. Porcelain veneers are matched to your teeth to look as real as possible, while fixing dental issues such as stained teeth, gaps, crooked teeth, and more.
Learn more: https://www.webmd.com/oral-health/guide/veneers
Q: Who is not a good candidate for veneers?
If you have experienced extensive damage to your teeth, you may not be a good candidate for porcelain veneers. Gum disease, cavities, and other oral health problems cause decay in the teeth and gums, and so further treatment is needed before you qualify for a veneer.
What to Know Before Getting Veneers: https://www.healthline.com/health/dental-veneers
Q: How long do porcelain veneers last?
A: Most porcelain veneers last anywhere between seven and fourteen years. However, if a veneer comes off, it can usually be placed and re-bonded back on your tooth, or a replacement can be made.
Q: Do porcelain veneers stain easily like normal teeth?
A: Porcelain veneers are much more stain-resistant than your normal teeth. Still, if your teeth are susceptible to staining, try to abstain from those habits to keep all your teeth as white and healthy as possible!
How to Help Prevent Stains:  https://www.webmd.com/oral-health/stains-teeth
Q: What are the advantages of porcelain veneers?
A: Porcelain veneers are easy to apply and can give you the smile you've been dreaming of. The preparations are simple, and you could receive your porcelain veneers in only 2-3 dental visits. Veneers fix many dental imperfections such as broken teeth, misaligned teeth, staining, gaps, and more. They can give you a straighter, whiter smile without braces.
Q: Are there any drawbacks to porcelain veneers?
A: Veneers, once adhered to the tooth, are not easily removed. If you have dental or gum health issues, veneers will not be a good option for you and your smile. If you grind your teeth or often chew on hard surfaces, such as your nails, you can be at risk of chipping your veneers and needing replacements often. If you grind your teeth and are considering porcelain veneers, talk to your dentist about a mouthguard to wear when you sleep.
Q: How do I properly care for my porcelain veneers?
A: Porcelain veneers are extremely simple to take care of and don't require any maintenance outside of your normal dental hygiene routine.
For further questions on porcelain veneers, please give us a call at Thomas L. Anderson and Associates!
We Can Help You Update Your Smile
Porcelain veneers are one such procedure that we have used to help our patients not only achieve the look (or updated look), but also the function they need from their smile. If you are curious about whether or not you can update YOUR SMILE, reach out to our team of professionals to discuss how veneers could be the solution for you. Contact us to book your appointment.
Contact us today to schedule your dental appointment and meet with our skilled dentists at one of our three conveniently located dental office locations within the Kansas City area, including Lee's Summit / Independence, the Country Club Plaza and Downtown Kansas City. The gentle dentists and expert team at Thomas L. Anderson and Associates look forward to working with you to treat your dental emergency, achieve proper oral health and a beautiful smile that will last a lifetime. If you have any questions about your dental insurance benefits, please do not hesitate to contact us.  We are happy to review your policy! Please give us a call today to schedule an appointment and become part of our dental family.