Smile Spotlight: Ann | The Health Benefits of Smiling
CASE STUDY | Porcelain Veneers
Patient: Ann, 35 Years
Problem: Didn't Like the Color of Her Teeth
Solution: 10 Porcelain Veneers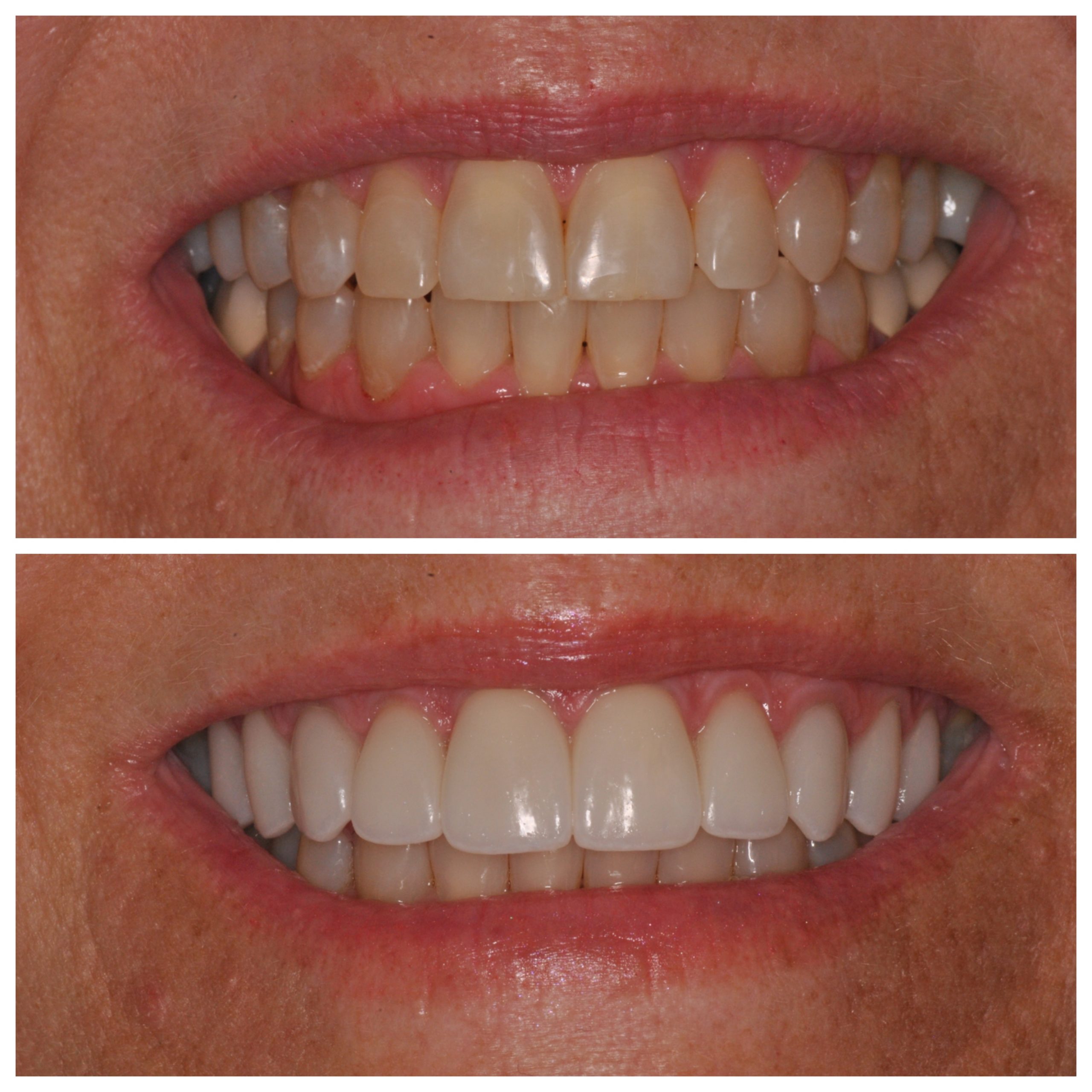 We'd like to introduce you to Ann …
Problem:
Ann was a 35 year old woman at the time, who didn't like to smile because she had always hated the brownish color of her teeth. Dental bleaching was performed first; however, due to the see-thru composition of her teeth, we still did not get the uniform natural whiteness that she was looking for with bleaching.
Solution:
After her consultation with Dr. Anderson, they decided to move forward with a procedure to place 10 micro-thin porcelain veneers. He rounded out some of the sharp edges and softened the front 6 teeth. The final result shows a beautiful smile. The gum tissue looks pink and healthy. The teeth do not look bulky or fake. She can eat anything she wants and smiles all the time.
Process:
Upper picture (before photo)  was taken over 15 years ago. The translucent nature of Ann's teeth is easy to see, as is the staining of her teeth.
Bottom picture is the final close up of the veneers showing Ann's beautiful and natural smile after 15 years of use.

Notice some of the sharp edges were rounded out and softened  on the front 6 teeth
Notice, after 15 years, her smile still looks great without any signs of wear or breakdown
Outcome:
These photos show up close results that illustrate what is possible, not a blurry image from a long-distance. The results were beautiful. Ann smiles all the time now, because she has a beautiful smile and loves the natural color of her teeth. Properly performed and with proper care, veneers last for years. As you can see in Ann's after picture that was taken after 15 years of use. Her smile still looks great without any signs of wear or breakdown.
Related Articles: Regain Your Self Confidence  and Smiles and Happiness
We Believe: Our Smile has Health Benefits 
It's simple … when you like your smile, you smile more! Not to mention, we know the health benefits of smiling — everything from the release of endorphins that affect our mood to catching someone smiling at us and automatically smiling back. A smile truly is contagious and we LOVE it when our patients LOVE to SMILE!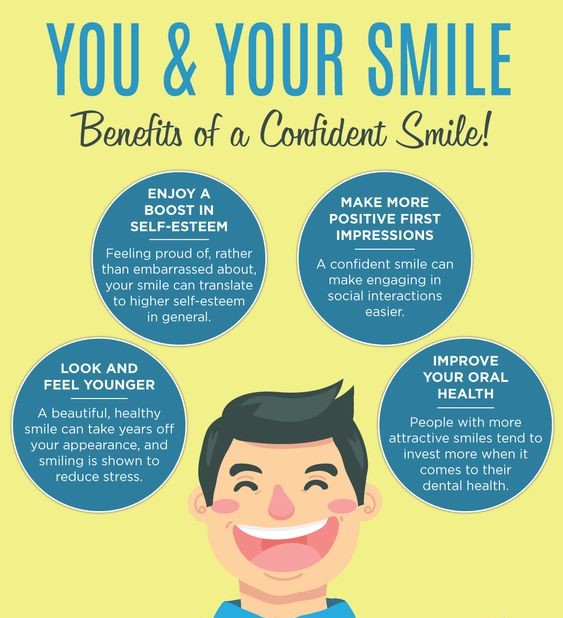 What's so magical about a smile is the ripple effect it causes.
There's so much more going on behind the scenes to s simple smile, because smiling has a big impact on those around us. It's not that they will smile back at you … it's so much more.
So, here are some of the many ways smiling affects those around you.
You make others happy.
Smiling is contagious. Therefore, it's so important to have a healthy and a contagious smile. If someone close to you is having a bad day, your smile just might be the thing that will turn their day around. Studies have proven that when we look at someone with a smiling face, our brains release endorphins which affect our mood.
It's a win-win situation.
But probably the best thing about smiling s that it affects you as well, whether you realize it or not. It affects your brain by sending neural messages that benefit your happiness. It also affects your body, by relaxing it and making you look better. There's a lot going on subconsciously when you smile. So, the next time you go out, don't be afraid to show off your pearly whites.
Your smile changes others' perception of you.
With a smile, you're changing what other people think about you, how they see you and more. Studies have confirmed that by smiling, you appear more attractive and more confident. The physical act of smiling affects the part of the brain that regulates your emotions.
People trust you more.
It's a psychologically proven fact that smiles have evolved to signal trust in others. Direct eye contact and a simple smile can go a long way. It's amazing how something so minor can have such an important impact. Look at it as an opportunity to spread positivity and happiness. Nothing beats a true and a real smile.
The health of your smile matters.
An unhealthy smile unfortunately just quite isn't the same as a truly healthy smile. So, if you want to truly affect other people and yourself, be sure to practice good oral hygiene habits. If you find yourself worried about how your smile looks and what it says about you-you need to do something about it. Have you ever considered a Smile Makeover?
Smile Makeover Treatments: Porcelain Veneers
Porcelain veneers are very thin shells made from porcelain to adhere and cover the front areas of your teeth. They are made to match your teeth as closely as possible, all while enhancing your smile. Veneers are bonded to your teeth, and you can receive as many or few as you need.
Porcelain Veneers can fix a multitude of issues to bring you your best smile:
Discolored/stained teeth
Worn down teeth
Teeth that have large gaps or are misaligned
Chipped or broken teeth
Small teeth
Porcelain Veneers can last for a long time, often lasting at least a decade and porcelain veneers are great at resisting stains, keeping your smile bright!
How Do You Get Porcelain Veneers?
Before getting veneers, you'll have an initial appointment with your dentist to discuss which options are best for you. Your dentist will possibly take X-rays to determine the best procedure plan and see if you are experiencing any tooth decay or gum disease that may not make veneers the best option for you.
Then, your dentist will trim down a small amount of your tooth, about half of a millimeter, and take an impression of your teeth to get the sizing accurate for your veneers. After that, your porcelain veneers will be created in the lab! Your perfect smile is just around the corner, and your veneers will be bonded to your teeth using a special adhesive.
The offices of Thomas L. Anderson, DDS and Associates work hard to make sure their patients have healthy, confident smiles they love to share with others. We'd love to help you share your smile too.!
Contact us today to schedule your dental appointment and meet with our skilled dentists at one of our three conveniently located dental office locations within the Kansas City area, including Lee's Summit / Independence, the Country Club Plaza and Downtown Kansas City. The gentle dentists and expert team at Thomas L. Anderson and Associates look forward to working with you to treat your dental emergency, achieve proper oral health and a beautiful smile that will last a lifetime. If you have any questions about your dental insurance benefits, please do not hesitate to contact us.  We are happy to review your policy! Please give us a call today to schedule an appointment and become part of our dental family.