Smile Spotlight: Paula | I Got the Smile of My Dreams
CASE STUDY | Porcelain Veneers
Patient: Paula, 56 Years
Problem: Did not like to smile because her 15-year old veneers appeared to be a stained & uneven color and she no longer liked their boxy shape.
Solution: 10 Porcelain Veneers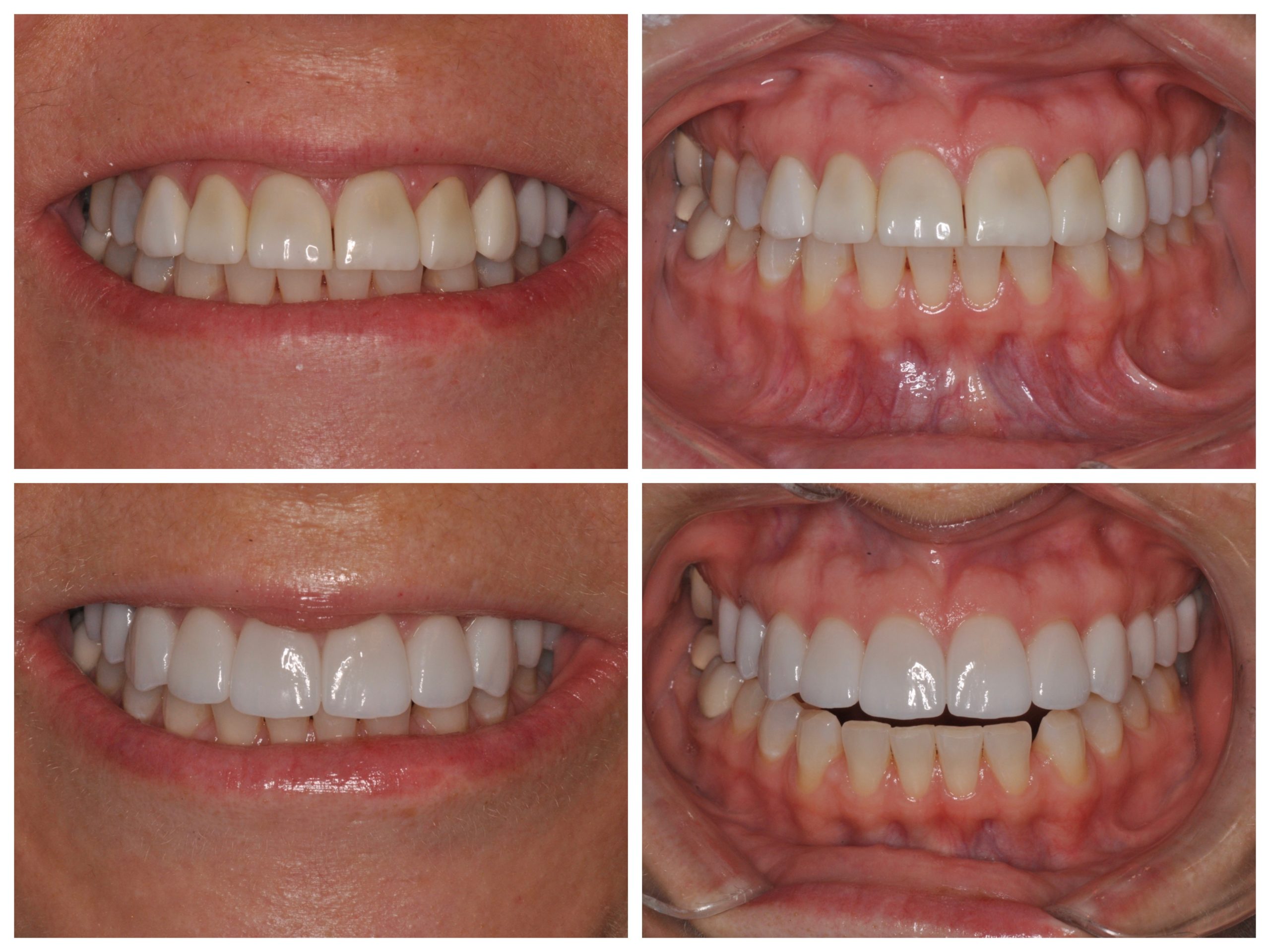 We'd like to introduce you to Paula …
Problem:
Paula got veneers back in the day before dental bleaching was popular. So, when her veneers were placed, they were not made with the brighter, whiter shades that are used in dentistry now and were not as white as teeth appear today.
Not only did Paula feel that her smile was unappealing, due to having a yellowish tinge to it, but the color looked uneven and dark around the edges.
Another reason for the uneven color and the dark spots that you can see in her before photo is something we refer to as "head lighting". Headlighting is caused by the uneven thickness of the original veneer material on all her teeth. The thin spots in the porcelain show the darker, underlying tooth color which looks like a dark spot or a head light.
Adding to Paula's list of dislikes, she was also unhappy with the shape of her veneers … they seemed to be boxy, uneven and she didn't like the gap between her teeth.
Solution:
Paula had a smile consultation with Dr. Anderson do discuss all the reasons she disliked her smile. Of course, during that conversation the ways dental technology, especially for veneers, has advanced in the past 30 years, was discussed. The most exciting part of that conversation was when Paula realized that she could have her smile updated using new custom Smile Design technology to create 10 new veneers.
Smile Design is a customized case-planning process that predesigned Paula's veneers ahead of time, based on how Paula wanted her smile to look. Impressions were taken along with dental photography and materials & shading were selected. The Smile Design process allows Dr. Anderson and his Team to use the science and art of dentistry to prepare teeth conservatively and uniformly to obtain excellent results. So, by using this technology – combined with Paula's help to design her new smile – Paula was thrilled with her results … the color and shape of her teeth were EXACTLY what she wanted!
Process:
Paula's smile transformation is amazing to see … by creating 10 new porcelain veneers, based on what she wanted her smile to look like, we have a very happy patient!
Paula just came in for her dental exam and we took these "after" photos of her current smile. Here's the KICKER… her veneers are 15 YEARS OLD! You read that correctly… They are NOT NEW!! They have had 15 years of use, but they still LOOK NEW AND BEAUTIFUL!! That's the wonderful thing about veneers – they are an investment; however, with proper oral hygiene and care, they can last you a lifetime!!
Look at the differences it made to the appearance of her front teeth:
No more yellowish-colored smile with uneven coloring, due to the "head lighting" of her old veneers. Her smile is brighter and whiter.
No more boxy, uneven shape to her teeth: Thanks to custom Smile Design technology, the shape of Paula's smile is now soft, natural, and even.
And no more gap between her front teeth!!
Upper picture (before photo) shows the yellowish staining and uneven discoloration throughout her teeth, as well as the gap between her two front teeth in her original veneers
Bottom picture is the image from her recent dental exam of her 15-year-old porcelain veneers showing Paula's natural and beautiful smile.

Porcelain Veneers are a more natural-looking cosmetic dentistry option.
Porcelain Veneers can cover teeth that are severely discolored or misshapen.
Porcelain Veneers can improve the symmetry of a smile.
Porcelain Veneers have a level of detail and craftsmanship that can be achieved through Dr. Anderson's  custom Smile Design technology to create the smile Paula wanted.
 Outcome:
15 years ago, Paula told me she wanted to love her smile again. So, by using our custom Smile Design technology, we worked together to create a smile that she wanted. You can see how beautifully her smile looks 15 years later … bright, even, and natural. And Paula LOVES to show it off because she LOVES TO SMILE!!
Related Articles:
We Believe: Everyone Should LOVE Their Smile!  
Dr. Anderson and his team take the time to consult with each patient and understand what they like and do not like about their smile and what they envision as the result they want. Custom options are then discussed, all questions are answered and the custom Smile Design process begins with the smile of their dreams as the final result.
Technology is constantly changing, and it is important to Dr. Anderson and his team of dental professionals to stay on the cutting edge of all dental updates that include new technology, materials, products, and procedure options.
We love to enhance the smiles of our patients – because we love to see them smile! From general dentistry and in-office whitening to complete smile makeovers that include multiple cosmetic dentistry options – the professionals at the offices of Thomas L. Anderson, DDS and Associates are constantly learning and fine-tuning the art and science of dentistry to deliver the results their patients want.
If you're not happy with your smile, for any reason, please schedule a smile consultation. We hope you'll visit us, so we can understand what you do and don't like about your current smile and how you'd like to see your smile transform, with a little help!
If you'd like to look at another one of our SMILE SPOTLIGHT patients who had Porcelain Veneers, check out Becky's Story.
Porcelain Veneers Can Give You the Smile of Your Dreams
In most situations, people choose a smile makeover for cosmetic improvement or personal preference. Many wish to enhance their smile as a way to increase their self-confidence and change how they navigate social settings. As opposed to hiding their smile, patients who receive a smile makeover can smile brightly.
In other circumstances, a smile makeover is a necessity since the procedure can seal cracks and mend broken teeth. Porcelain veneers are ideal for smile makeovers. They provide immediate perfection, allowing patients to see a new smile right after the procedure is completed. If you want a smile makeover with porcelain veneers, keep reading for the more information on the treatment and its benefits.
What Are Porcelain Veneers?
Porcelain veneers are used in cosmetic dentistry. A veneer is a thin shell that is placed over a tooth to correct any tooth damage or to improve the color and alignment of a smile. Porcelain veneers are customized to match the color and the appearance of natural teeth completely. It is a permanent procedure with lasting results. Many patients opt for veneers because capping teeth corrects a number of dental concerns.
Related Article: Top Trends and Treatments in Cosmetic Dentistry

What Are the Benefits of Porcelain Veneers?
Provides a Protective Coating for Teeth
Tooth enamel plays an important role in tooth function and longevity. Enamel is said to be much stronger than bones in the human body. Although it is resilient, enamel can wear down over time and leave teeth susceptible to decay, discoloration, and unwanted oral conditions. Porcelain veneers offer a solution to damaged enamel as it provides a layer of coating that protects to teeth. Veneers also limit any discomfort or visible damage caused by worn-down enamel.
Whitens Teeth Immediately
For people who have stained or yellowed teeth, porcelain veneers offer a quick fix. They shield the front portion of the teeth, disguising any discoloration and presenting a more beautiful smile. Porcelain veneers are resistant to stains and offer protection and longevity. After this dental procedure, individuals do not have to worry about whitening their capped teeth. Instead, they can comfortably sip coffee, wine, and other drinks without hesitation.
Corrects Unwanted Imperfections
One of the primary advantages to porcelain veneers is the ability to repair chipped, broken, or gapped teeth quickly. Veneers offer instant results that, in most situations, eliminate the need for additional dental cosmetic procedures. Overall, porcelain veneers help conceal minor cosmetic and orthodontic issues.
Related Article: Cosmetic Dentist in Kansas City
Thomas L. Anderson, DDS and Associates Can Help You Achieve the Smile of Your Dreams
Thomas L. Anderson, DDS and Associates dentistry extends their services beyond professional cleanings and fillings. We also provide a range of cosmetic treatments. Porcelain veneers are one such procedure that we have used to help our patients achieve the look and function they want from their smile. If you have been dreaming of the perfect smile, reach out to our team of professionals to discuss how veneers could be the solution for you. Contact us to book your appointment.
Contact us today to schedule your dental appointment and meet with our skilled dentists at one of our three conveniently located dental office locations within the Kansas City area, including Lee's Summit / Independence, the Country Club Plaza and Downtown Kansas City. The gentle dentists and expert team at Thomas L. Anderson and Associates look forward to working with you to treat your dental emergency, achieve proper oral health and a beautiful smile that will last a lifetime. If you have any questions about your dental insurance benefits, please do not hesitate to contact us.  We are happy to review your policy! Please give us a call today to schedule an appointment and become part of our dental family.