Full Mouth Restoration: What Procedures are Commonly Used?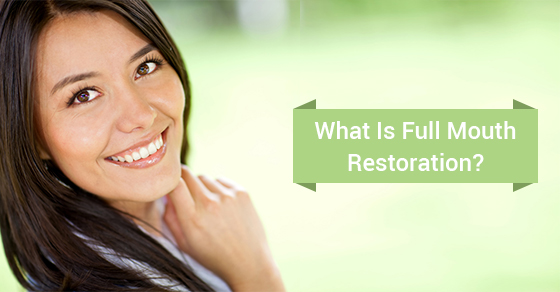 Are you dealing with multiple dental complications? Are you unsure of what treatment(s) you may need to fix your pain and the confidence in your smile? Thankfully, full-mouth restoration / reconstruction can restore the beauty, health, and functionality of your smile by combining aesthetics and the science of restorative dentistry.
What is Cosmetic Dentistry? https://www.webmd.com/oral-health/ss/slideshow-cosmetic-dentistry
When Full Mouth Restoration is Necessary
Whether your mouth has experienced decay, trauma, disease, or the wear and tear of multiple years of usage, full mouth reconstruction is a great "reset" button for your smile – helping you reach your dream smile makeover. This restoration process is completed by reconstructing or remaking the essential elements of your mouth, such as:
Jaw: You have experienced jaw pain, a misaligned bite, or bone imperfections
Teeth: You have teeth that have been lost because of decay or trauma, fractured teeth due to injury, or your teeth are very worn from acid erosion
Gums: You have experienced gum disease or high levels of decay
Procedures Involved in Full Mouth Restoration
Procedures to fix these dental issues will be based on your personal needs after an in-depth consultation with your dentist. With full mouth restoration or reconstruction, there isn't a "one-size-fits-all" approach, but rather, a highly personal style for each smile and can include several different phases and considerations. Simply put, full-mouth reconstruction isn't a single procedure, but a combination of measures and treatments to reach your desired flawless, strong smile. Once completed, your new smile will feel functional, beautiful, and natural.
Before full mouth restoration, patients can experience trouble chewing, swallowing, or speaking. After reconstruction, the mouth is restored to function at full capacity, restoring the ability to perform those daily, common functions of eating, speaking, and swallowing.
There are several dental procedures that can be performed for a full mouth restoration:
Onlays and inlays
Crowns
Bridges
Implants
Braces
Root canals
Gum disease treatments
Fillings
Bite therapy
More on Dental Procedures: https://www.yourdentistryguide.com/procedures/
Are Dental Crowns a procedure commonly used during full mouth restoration? Find out here.
Consulting your dentist is essential to discovering if you need a full mouth restoration. To find out more about full mouth restoration, or to learn more about how you can rebuild your smile with beauty and function in mind, contact Thomas L. Anderson, DDS and Associates. Your perfect smile could be just a few visits away.
Contact us today to schedule your dental appointment and meet with our skilled dentists at one of our three conveniently located dental office locations within the Kansas City area, including Lee's Summit / Independence, the Country Club Plaza and Downtown Kansas City. The gentle dentists and expert team at Thomas L. Anderson and Associates look forward to working with you to treat your dental emergency, achieve proper oral health and a beautiful smile that will last a lifetime. If you have any questions about your dental insurance benefits, please do not hesitate to contact us. We are happy to review your policy! Please give us a call today to schedule an appointment and become part of our dental family.