Smile Spotlight: Shelly | You Deserve a CONFIDENT SMILE!
CASE STUDY | Porcelain Veneers
Patient: Shelly, 46 Years
Problem: Didn't like the way her teeth looked in photos
Solution: 10 Porcelain Veneers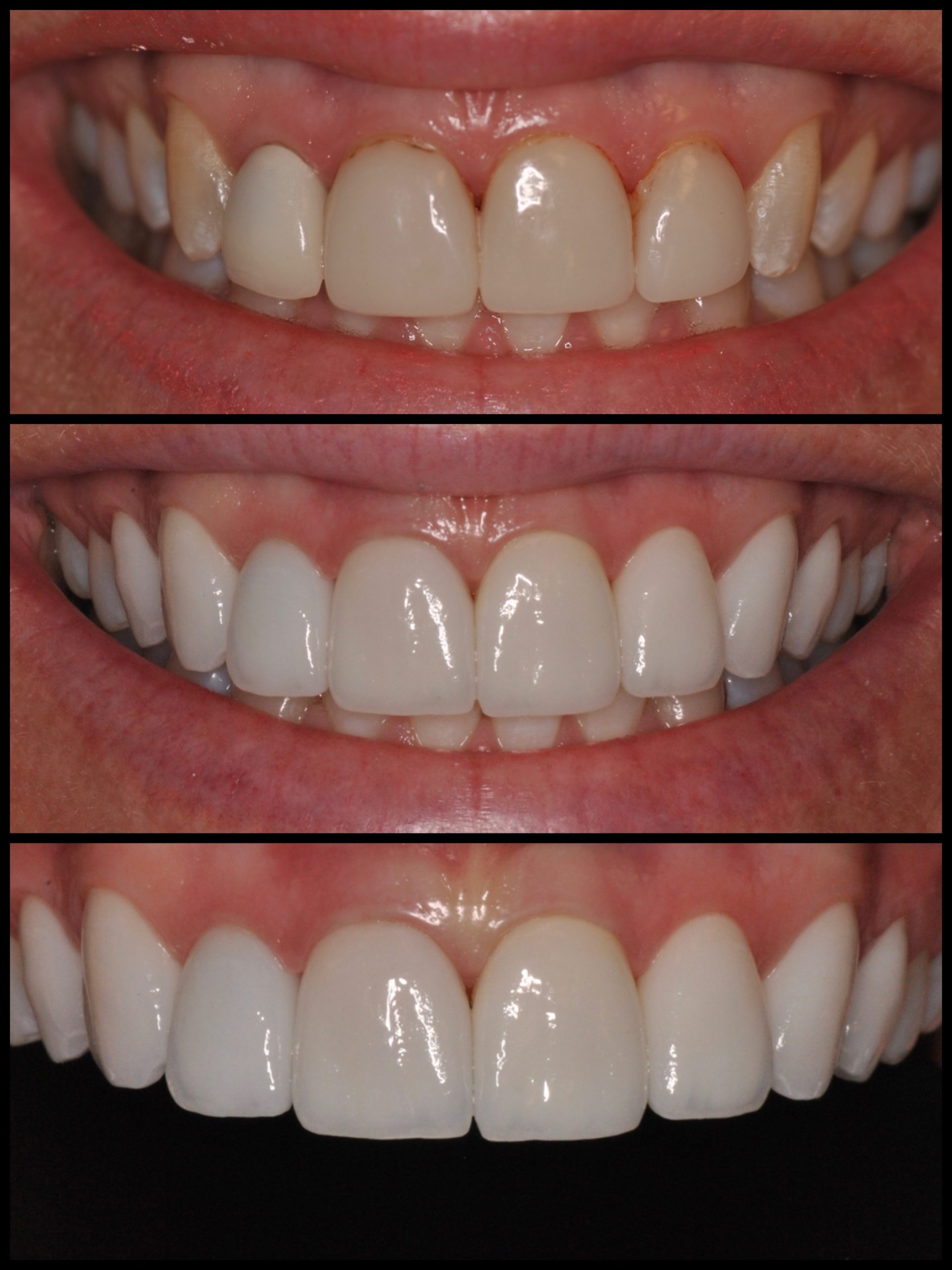 We'd like to introduce you to Shelly…
Problem:
Shelly works in the public eye and her career gives her the opportunity to do a lot of speaking engagements; however, when we met her, she was very unhappy with the way her smile looked in photographs and wanted to change the appearance of her teeth to that of a confident smile.
Solution:
During Shelly's smile consultation with Dr. Anderson, the initial picture of her smile (top photo) shows a sludgy effect between her gum line and 4 veneers that had been placed 15 years ago. This isn't the way her gumline should look; notice the black line and grainy breakdown and decay around the edges of her veneers. Over time, one of her veneers broke and was replaced with one that was lighter in color, so her teeth appeared mismatched. Notice the overall color of her old veneers is a brownish, translucent yellow color that lacks luster and shine. Instead, it makes her smile look dull and aged. When we discussed this photo, it was easy to understand why Shelly was not happy with her smile.
For Shelly's treatment, we decided to place 10 new porcelain veneers that were lighter in color (middle photo). WOW!! What a difference this treatment made on her smile and the health of her gum tissue. Now, you can see Shelly's entire smile on full display, which is now a healthy pink and completely symmetrical. Notice the color between the teeth and the gums is in perfect balance as the colors compliment each other project health, wellness, vitality, youth, beauty, and confidence!
Process:
We want you to look at the closeup image (bottom photo) of Shelly's completed smile transformation.
Why are we showing you a closeup?
We want you to notice the detail that is possible with this type of dental treatment to give our patient a smile makeover using the full ability of science and the art of modern dentistry. This type of transformation includes our patient, our laboratory artist, and our dental team working closely together to create and achieve phenomenal results.
Understand, these photos are not filtered, altered, or touched up in any way. We feel that showing true closeup photos of our patient's smile display the level of care and detail that we provide our patients. Shelly's smile spotlights the art and science of the cosmetic dentistry options that we offer at the offices of Thomas L. Anderson, DDS and Associates. We encourage people to compare the results you see here and in other Smile Spotlight cases that we've featured with the results of other cosmetic dentists that you may be considering.
Clearly, the results of Shelly's transformation is that of an incredibly beautiful, not to mention dazzling, natural, pearly white and confident smile!
Outcome:
Let's review…
Shelly is constantly speaking in front of crowds and audiences for her career. It is her job to deliver presentations and commentary with personality to engage her audience that includes belief and authority in her subject matter AND confidence.
As we know, confidence is all encompassing and includes the way we look AND feel.
Take another look at these before and after images…
Initial Picture at top: 4 fifteen-year-old veneers show breakdown and decay at an unhealthy gum line that includes a brownish, translucent, and mismatched color of veneers resulting in Shelly's aged and lack-luster smile.
Middle Picture: Shelly's healthy, transformed, and completed smile after placing 10 porcelain veneers showcasing:
a pink, healthy gum line free of decay
a beautiful symmetrical smile
a dazzling white smile that reflects wellness, vitality, youth, and beauty
Closeup Picture at bottom: the detail, craftsmanship and care that we provide our patients as we worked closely with Shelly, our laboratory artist, and our dental team to create and execute a treatment plan to transform her smile with phenomenal results.
Shelly wanted to have full confidence when addressing her audiences and now, with her smile transformation, she is a triple threat with Belief, Beauty AND Confidence!
We'd love for you to see a few of the other Smile Spotlights we've created with our patients:
We have many more stories to share … just ask us!!
Let's Talk About Porcelain Veneers …

What Are Porcelain Veneers?
Porcelain veneers are very thin shells made from porcelain to that is placed over a tooth to correct any tooth damage or to improve the color and alignment of a smile. They are customized to match the color of your teeth as closely as possible, all while enhancing your smile for a more realistic, natural-looking, confident smile. Veneers are bonded to your teeth permanently for lasting results and you can receive as many or as few veneers as you need.
Veneers can fix a multitude of cosmetic dentistry issues to bring you your best smile:
Chipped or broken teeth
Teeth that have large gaps or are misaligned
Discolored or stained teeth
Small teeth
Worn down teeth
Veneers can last for a long time, often lasting at least a decade and porcelain veneers are great at resisting stains, keeping your smile bright!
Check out our Porcelain Veneer FAQ HERE.
What Are the Benefits of Porcelain Veneers?
Corrects Unwanted Imperfections: One of the primary advantages to porcelain veneers is the ability to repair chipped, broken, or gapped teeth quickly. Veneers offer instant results that, in most situations, eliminate the need for additional dental cosmetic procedures. Overall, porcelain veneers help conceal minor cosmetic and orthodontic issues.
Whitens Teeth Immediately: For people who have stained or yellowed teeth, porcelain veneers offer a quick fix. They shield the front portion of the teeth, disguising any discoloration and presenting a more beautiful smile. Porcelain veneers are resistant to stains and offer protection and longevity. After this dental procedure, individuals do not have to worry about whitening their capped teeth. Instead, they can comfortably sip coffee, wine, and other drinks without hesitation.
Provides a Protective Coating for Teeth: Tooth enamel plays an important role in tooth function and longevity. Enamel is said to be much stronger than bones in the human body. Although it is resilient, enamel can wear down over time and leave teeth susceptible to decay, discoloration, and unwanted oral conditions. Porcelain veneers offer a solution to damaged enamel as it provides a layer of coating that protects to teeth. Veneers also limit any discomfort or visible damage caused by worn-down enamel.
Read more HERE about veneers.
Why Do People Want Veneers?
There are many reasons why people choose dental veneers to makeover their smile. Here are the top six reasons why people make this choice:
Decayed and broken teeth
Crowded teeth treatment
People choose to close gap in teeth, especially the front teeth
People with heavy, permanent teeth stains choose to enhance and brighten their smile with veneers
Many people choose to get veneers to lengthen teeth and create a more symmetrical smile
When previous teeth restorations have failed and the gums have pulled away to show an unsightly black edging around the tooth, veneers are a choice to restore teeth and the appearance of the smile
As you can see, there are several reasons people choose a makeover with porcelain veneers to achieve a confident smile. When a patient visits one of our offices, our goal is to help them in any way we can. When you are unhappy with your smile, you are less likely to share it with others. Enhancing your teeth will make it much easier for you to express your joy through smiling. We want to help you because, everyone deserves to have the confidence to smile.
Learn More about Dental Health and Veneers: from WebMD HERE.  
How Do You Get Porcelain Veneers?
Many patients visit our office with questions about the steps of getting dental veneers or have concerns they'd like to talk through. Below, we've outlined several steps of the veneer process in order to ease nerves and answer some questions.
One of the first steps in the process is to get diagnostics of the patient. Impressions and photos are taken to map out what the final teeth restorations will look like before preparing the teeth.
Once diagnostics have been done, the patient we'll begin the actual process of preparing the teeth. During this appointment, your dentist will discuss shape, size, contour, and shade with you, so that the temporaries and final veneers will be customized to your satisfaction.
Your teeth will be prepared by trimming down a small amount of your tooth, about half of a millimeter. Then an impression of your teeth will be taken and models created to get the sizing accurate for your veneers; and your temporary veneers will be placed.
After that, your porcelain veneers will be created in the lab based upon the information provided by the doctor.
Your perfect smile is just around the corner! Once the lab has finished creating the veneers, the doctor will place them. They will be bonded to your teeth using a special adhesive and post-op photos will be taken.
After this appointment there may be a following appointment to check the final outcome of the teeth restorations.
Read more HERE about What to Know Before Getting Porcelain Veneers. 
Caring for Your Porcelain Veneers
Porcelain veneers are not high maintenance and do not require any special care. To keep your smile in tip-top shape, continue with your normal oral hygiene routine of brushing and flossing daily and seeing your dentist on a regular basis. However, if you want to preserve your veneers for the longest amount of time, we recommend:
Protect your teeth at night if you grind them
Wearing a mouth guard during contact sports
Try not to chew on hard items such as fingernails
Do not use your teeth to open packages
At Thomas L. Anderson and Associates, we know that no one wants unnatural-looking teeth, and that's why we use the latest technology to create custom porcelain veneers to enhance your confident smile without anyone noticing!
Boost Your Confidence
Feeling confident in your smile can help boost your confidence and help you develop a healthy self-esteem. With a bright, lovely smile, you are more likely to smile, and this may lead to better first impressions and help you enhance your personal and professional relationships because you exude a confident smile and it shows throughout your demeanor. A beautiful, confident smile will help you shine and become the best version of yourself!
We Can Help You Achieve the Confident Smile of Your Dreams!
Porcelain veneers are one such procedure that we have used to help our patients achieve the look and function they want from their smile. If you have been dreaming of the perfect smile, reach out to our team of professionals to discuss how veneers could be the solution for you. Contact us to book your appointment.
Contact us today to schedule your dental appointment and meet with our skilled dentists at one of our three conveniently located dental office locations within the Kansas City area, including Lee's Summit / Independence, the Country Club Plaza and Downtown Kansas City. The gentle dentists and expert team at Thomas L. Anderson and Associates look forward to working with you to treat your dental emergency, achieve proper oral health and a beautiful smile that will last a lifetime. If you have any questions about your dental insurance benefits, please do not hesitate to contact us.  We are happy to review your policy! Please give us a call today to schedule an appointment and become part of our dental family.