Smile Spotlight: Steve | Guys, it's time to talk about Mens Oral Health
CASE STUDY | Symmetrical Smile
Patient: Steve, 55 Years
Problem: Smile Looked like a Smorgasbord of Different Sizes, Shapes and Colors
Solution: 10 Porcelain Veneers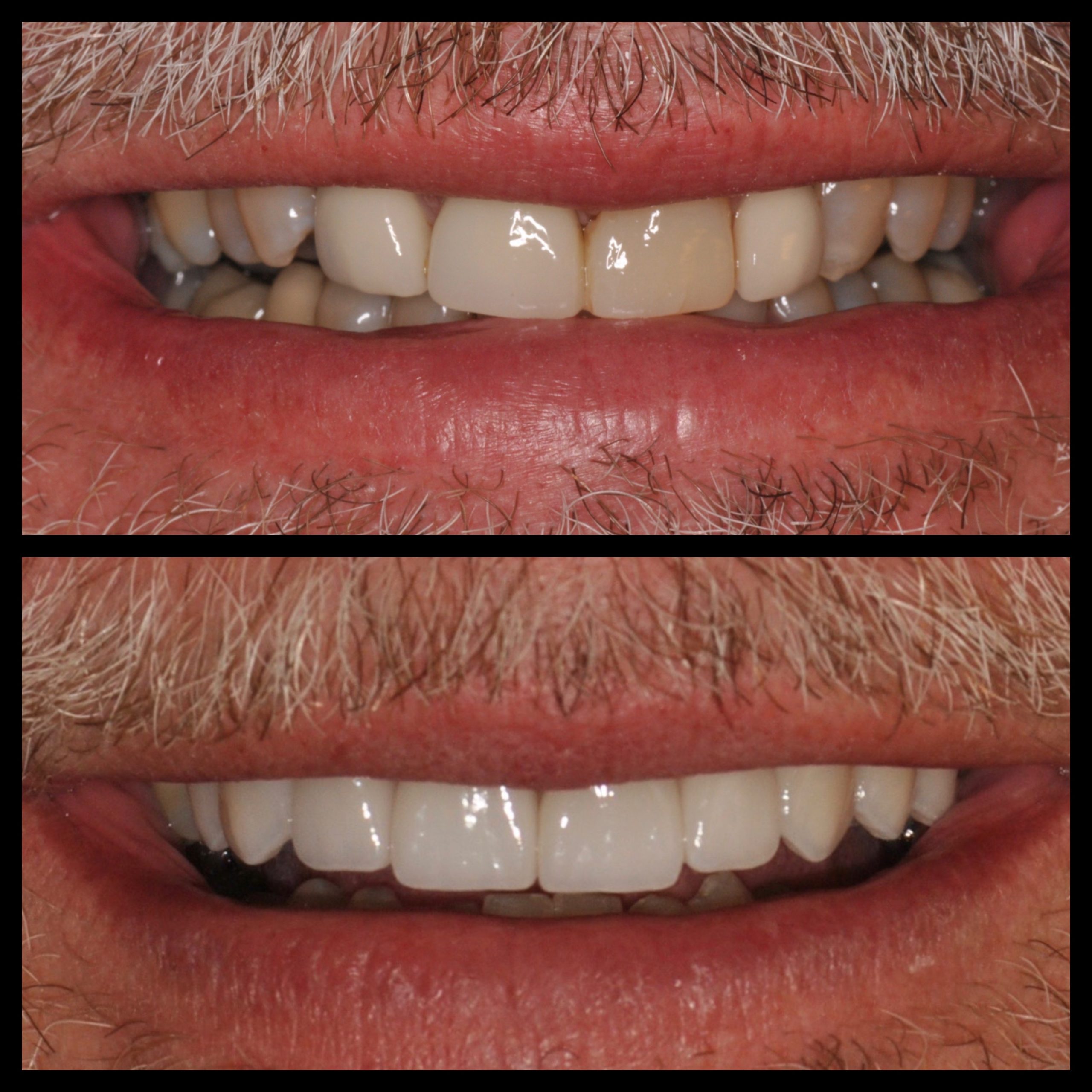 We'd like to introduce you to Steve…
Problem:
Steve is a 55 year old male who wanted to enhance his smile; however, he had been replacing one tooth at a time over a number of years. Instead of smiling with beautiful teeth, his smile looked like a smorgasbord of teeth with different sizes, colors and shapes. It was time for Steve to get a smile update!
Solution:
During Steve's Smile Consultation, we discussed how he wanted his smile to look; he wanted a natural-looking, brighter smile with teeth that are even sized and shaped. So we decided to move forward with placing 10 porcelain veneers to achieve the way Steve wanted his smile to look.
After careful examination, dental X-rays, dental photography, study models, and case planning we were ready to meet with Steve to discuss our treatment recommendations to restore his smile with 10 porcelain veneers.
Process:
After Steve was 22 years old, it was decided that in order to update Steve's smile, 10 porcelain veneers would be placed with color shade he wanted for a naturally whiter smile. These close-up photographs (above) show Steve's before and after pictures. This single photo shows his after picture. All demonstrate beautiful size, shape and color of the teeth, as well as harmony with the surrounding gum tissue that created an overall healthy and aesthetically pleasing smile.
Outcome:
Steve loves his new smile!
We placed 10 porcelain crowns to Steve's upper, front teeth and now … He LOVES to Smile now! Check out the difference in his actual smile in the photos:
The before photo (top picture): his teeth were showing some yellow staining and looked uneven. However, the biggest reason he didn't like his smile is because his teeth were different shades, different sizes and different shapes. Why? Because he was having his teeth fixed one at a time.
The after photo (bottom picture): shows Steve's transformed smile! His hand-crafted porcelain veneers  were customized to create a brighter, natural-looking, more symmetrical and youthful smile. Notice how healthy Steve's teeth, gums and smile look AND how natural his teeth look.
It's important that you know: These restorations were placed 12 years ago! His after photo (bottom picture) was taken 6 months ago! Isn't that amazing? Just because time takes a natural toll to our smile, doesn't mean that we have to like it OR that we have to live with it! A smile transformation, like Steve's, is a long-term solution — not a short-term fix. After 12 years, they still look brand new.
Related Article: Are You Ready for a Porcelain Veneer Smile Upgrade?
Close-up pictures of actual dentistry are important when evaluating your selection for a dentist because it allows patients to look at actual teeth and treatment before and after under magnification. This allows them to assess and judge if the dental treatment being provided meets with their expectations.
Often, we use dental photography and chair-side mockups to show patients how much their smiles need a little improvement. By showing and educating patients, especially male patients, that fixing their teeth is not just for women, that it brings physical and psychological benefits to them, as well as benefits to their wellbeing,. One of the things we do as dentists is to plant a seed for our patients that they may want to consider in the future.
Hey Guys … We Need to Chat!
We know guys like statistics … so we thought we'd share some Mens Oral Health Statistics with you:
Men are more likely to go several years without setting foot in a dentist's office for regular checkups; they only visit when they are experiencing a problem, such as a toothache or are experiencing a dental emergency. Learn More about Dental Emergencies
On average, only 20.5% of men brush their teeth after each meal.
Less than half of men brush their teeth twice daily as recommended by the ADA.
Men are more susceptible to gum disease. More than one-third of men ages 30-54 will develop gum disease; more than half of men ages 55-90 will develop this disease.
Why do you think this is?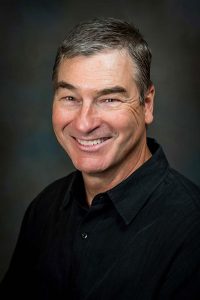 According to Thomas L. Anderson, DDS these facts ring true in his practice as well. Below is a quick Q&A from Dr. Anderson's perspective:
Q. What percentage of your male patients complete treatments to improve their smile?
A. Men only comprise 25% of smile procedures, but they are the most rewarding.
Q. Do men care about the appearance of their smile?
A. Throughout my dental career of 35 years, I've observed that most men care about how their smile looks, but most will not admit it.
Q. Why do you think men put off treatment to enhance their smile?
A.  As men get older, breakdown and damage naturally occur to their smiles, but this damage occurs at such a slow pace that it is not noticed, nor is it accepted as part of getting older.
Q. Are there any other reasons?
A. Yes. Other times, men will put off restoring their teeth because of other needs; for example, kids in college, budgets, time, etc. and will forgo treatment. I have found that even after their kids grow up, sometimes my male patients don't see value in fixing their teeth, because who cares? Often, they have spent their lives saving money, and most of them have the money to fix their teeth, but they just don't think about spending money on themselves, even on personal improvements. Sometimes I feel that they are waiting for someone to suggest it, that way they won't look vain if they ask about it themselves. Many times, when I'm having a conversation with a male patient about improvements that can be made to their smile, they act nonchalant about it, like it doesn't bother them or it's no big deal. Then, they agree with me when I point out what is wrong with their teeth. They are usually grateful that someone finally gave them a reason to fix their teeth without looking vain or self-absorbed because they care about their appearance. It's ok to want your smile to look good! It doesn't make you a bad person to care about your appearance. But, for some reason, most of my male patients won't bring it up, unless I do. 
Q. How do you begin the conversation?
A. Often, we use dental photography and chair-side mockups to show patients how much their smile can change with a little improvement. By showing and educating our patients, especially male patients, that fixing your teeth is not just for women, that it brings physical and psychological benefits and as well as benefits to their wellbeing, we can plant a seed for them that they may consider in the future.
Q. Once you have that discussion with your patient, does he move forward with the treatment that you suggest?
A. Eventually … many wait a year or so; however, each time they come into my office for their dental appointment, I continue to ask them if they're ready to move forward and fix their smile. Eventually, they agree. Maybe it just takes them some time to make this type of decision. 
Q. What happens to your male patients when they don't feel good about their smile?
A. Not liking their smile comes at a cost of not smiling fully and not feeling good about the way they look. These negative feelings block the enjoyment of their inner happiness and self-worth. Often, their smile is the missing piece of the puzzle, that kicks off a cascade of self-improvement items for men, including becoming more active, living life with more laughter, eating better, etc. Their new smile is the catalyst and it's amazing to see the changes after they have their smile fixed.
Here are a couple of the other Smile Spotlights we've created with our male patients:
We have many more stories to share … just ask us!!
Why is Dental Health Worse in Male Patients?
Mens dental health tends to fare worse than women in many aspects of oral health, including rates of certain oral infections, gum disease, and tooth loss. Some of these differences reflect more of a decrease in dental health habits in men than in women; others may be due to risk of heart disease and higher blood pressure. The medications men take to control these conditions can also be a factor.
Here are some additional oral health facts show how men's choices are different from those of women.
Missing Dental Visits
Men are less likely to visit a dentist than women. Instead of keeping up with regular dental exams and visits, they often wait to visit a dentist when they have a problem (typically pain) that needs fast treatment.
Insufficient Brushing
Roughly 8 percent more women brush their teeth twice a day, than men. Adult males are also less likely than women to brush their teeth after every meal.
More Gum Problems
34 percent of men from 30 to 54 years old suffer from gum or periodontal disease; compared to 23 percent of women within the same age range. Between the ages of 55 and 90 years, 56 percent of men and 44 percent of women suffered from gum disease. Learn more about Preventing Gum Disease.
Higher Risk of Dry Mouth
The quality of men's dental health may be associated with heart disease and high blood pressure medications that cause dry mouth. Because saliva has a protective effect against bacteria, the chances of dental problems increase when it's low.
More Advanced Conditions
Adult women have less severe periodontal disease than men of every age. In addition, both white and African American women have a lower incidence of pharyngeal cancer than men of the same ethnic backgrounds. Learn More about the Oral Cancer Screening that will be completed during your dental exam.
More Dental Replacements
Elderly men have fewer teeth than women by a certain age. As a result, they more frequently wear dentures.
Higher Use of Carcinogens
Often from smoking, chewing tobacco and drinking alcohol, twice as many men as women develop oral cancer.  Each of these are carcinogenic in nature, meaning they can put you at high risk for cancer.
Higher Risk of HPV
Poor oral health is also a risk factor for oral human papillomavirus (HPV) infection. More men than women suffer from the oral manifestation of this virus, which can lead to oral cancer; four times as many men as women suffer from oral cancer associated with HPV.
Mens oral health shouldn't be taken lightly, as you can see men are less likely to take care of their teeth than women; however, there is plenty they can do to reduce their risk of dental problems.
Mens Oral Health: 5 Simple Steps
Get Regular Dental Exams.
Remember to Floss.
Don't Skip Brushing.
Be Mindful of Your Diet.
Avoid Smoking.
It's not that difficult … brushing twice per day with a fluoride toothpaste, and flossing once daily after a particularly rich meal, can maintain healthy teeth and gums. A dentist can advise on how to help prevent dry mouth, and men can reduce some of the behaviors that may lead to oral cancer. Parents can encourage good oral health in young boys to establish healthy habits early on.
It's Time to Restore Your Smile
The offices of Thomas L. Anderson, DDS and Associates work hard to make sure all their patients have healthy, confident smiles they love to share with others. We'd love to help you want to share your smile too!
Contact us today to schedule your dental appointment and meet with our skilled dentists at one of our three conveniently located dental office locations within the Kansas City area, including Lee's Summit / Independence, the Country Club Plaza and Downtown Kansas City. The gentle dentists and expert team at Thomas L. Anderson and Associates look forward to working with you to treat your dental emergency, achieve proper oral health and a beautiful smile that will last a lifetime. If you have any questions about your dental insurance benefits, please do not hesitate to contact us.  We are happy to review your policy! Please give us a call today to schedule an appointment and become part of our dental family.