Get a Smile Update with Cosmetic Dentistry Options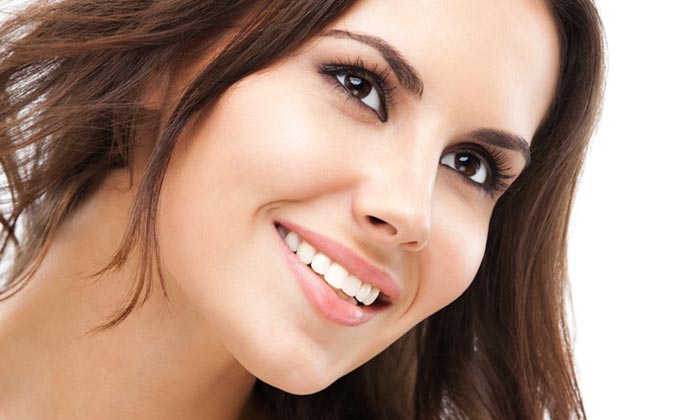 Curious how you can improve your smile and your confidence? Cosmetic dentistry is here to help you reach your smile goals! With services like Invisalign invisible braces, porcelain veneers, and professional teeth whitening, we can help you get a smile update with cosmetic dentistry options.
GOAL #1 Straighter Teeth | Invisalign Braces
Invisalign braces are a quick and painless way to straighten your teeth. Unlike traditional braces that are noticeable and time-consuming, Invisalign invisible aligners are discreet, comfortable, and provide the same results as traditional braces. Invisalign aligners are also low-maintenance and don't disrupt your daily routine. They are removable, so you can enjoy your normal eating routine.
Related Articles:
GOAL #2 Updating the Size & Shape of Teeth | Porcelain Veneers
Often called Hollywood teeth, porcelain veneers allow you to completely reshape and enhance your smile. Veneers are custom-made, thin shells of tooth-colored porcelain that cover the front of the teeth. Your dentist will remove a small amount of enamel from your natural tooth and bond the porcelain veneer to it. This will give you an ideal tooth shape, color, and size.
Related Articles:
Learn more about Porcelain Veneers HERE  
GOAL #3 Brighter, Whiter Teeth | Professional Teeth Whitening
Unlike over-the-counter brightening products that barely whiten the surface of your teeth, professional whitening services go the whole 9 yards. Professional teeth whitening removes stains on the enamel (extrinsic stains) and the layer under the enamel (intrinsic stains) without causing the sensitivity that over-the-counter products cause. This is a simple and inexpensive way to greatly improve the look of your smile.
There are so many aspects of everyday life that can cause staining:
Food and beverages.
Aging.
Oral hygiene.
Smoking and tobacco.
Related Article: How Professional Teeth Whitening Delivers Results  
Cosmetic Dentistry Available at Thomas L. Anderson, DDS and Associates
You can get a smile update with cosmetic dentistry options that can improve the look and the health of your smile. Whatever your smile goals are, we can help you meet them at Thomas L. Anderson and Associates. Please call to schedule your Smile Consultation at 816-373-4440.
Smile Spotlight Features: 
Contact us today to schedule your dental appointment and meet with our skilled dentists at one of our three conveniently located dental office locations within the Kansas City area, including Lee's Summit / Independence, the Country Club Plaza and Downtown Kansas City. The gentle dentists and expert team at Thomas L. Anderson and Associates look forward to working with you to treat your dental emergency, achieve proper oral health and a beautiful smile that will last a lifetime. If you have any questions about your dental insurance benefits, please do not hesitate to contact us.  We are happy to review your policy! Please give us a call today to schedule an appointment and become part of our dental family.