Smile Spotlight: Andrew | Cosmetic Dentistry Can Restore Your Smile
CASE STUDY | Ground Down, Chipped, Cracked: It's only gonna get Worse
Patient: Andrew, 24 Years
Problem: Future Problems with Ground Down, Chipped and Fractured Teeth
Solution: Porcelain Veneers ~ 10 Upper | 8 Lower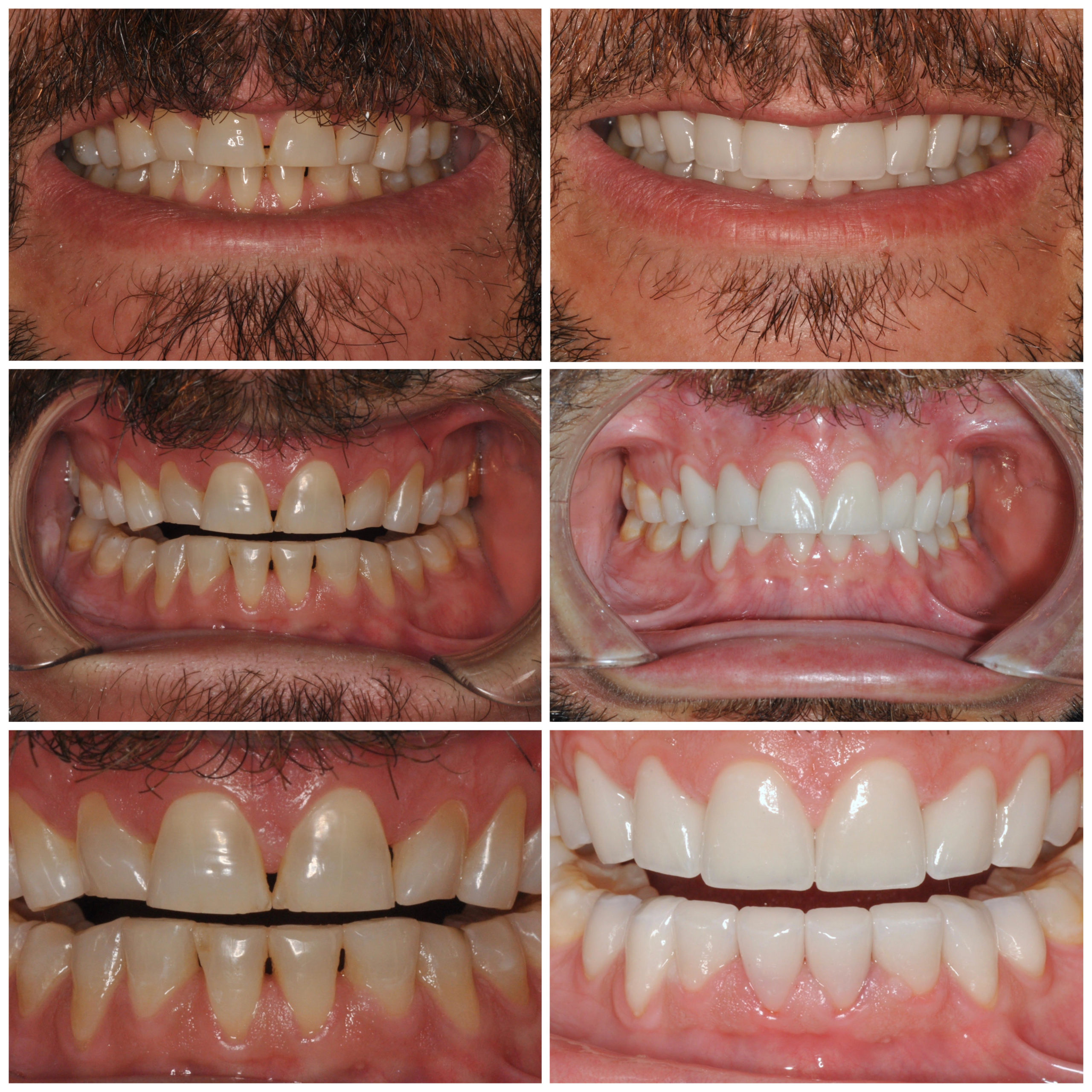 We'd like to introduce you to Andrew…
Andrew has been so much fun to work with and we want to tell you a little bit about him!
Andrew is a 24 year-old rough and tumble Cowboy. He wrangles, hunts, fishes, and farms. He's a tough, gritty guy. He's friendly, honest, and funny. He's an all around great guy! And he wanted a smile that would look great and match his wonderful, outgoing, and optimistic personality. He wanted to improve and enhance his life with a more appealing smile.
Typically, women want to improve their smiles; however, sometimes men don't seem to "care" about how they look. They buy into the stigma that men shouldn't care about their appearance. Give me a "YEEE HAW!!" if you think that's just plain WRONG!! Many times our male patients don't realize that  other people (like their wife or significant other) DO CARE how they look! Many times it's that special person in our life that gets the biggest benefit from seeing our beautiful smile, because when we smile it shows other people that we feel good, we're happy, we're confident, we take pride in how we present ourselves to the world. Besides, life is short and we should ALL laugh and smile more in this crazy world!
This cowboy was ready for an upgrade! We discussed how cosmetic dentistry can restore your smile to a great looking smile!
Problem:
Andrew is a 24 year old male who understood that over time, his chipped and fractured teeth were only going to get worse, causing unnecessary sensitivity and pain as his teeth would crack and break. He understood that it was time to take action and have his teeth fixed.
Solution:
During Andrew's Smile Consultation, we discussed how he wanted his smile to look; he wanted a natural-looking, brighter smile with teeth that will serve him well in both form and function. We decided to move forward with placing 10 porcelain veneers on his top arch and 8 porcelain veneers on his lower arch to achieve the healthy smile Andrew wanted.
After careful examination, dental X-rays, dental photography, study models, and case planning we were ready to meet with Andrew to discuss our treatment recommendations to restore his smile with a total of  18 porcelain veneers.
Process:
After making the conscious decision that Andrew was ready to enhance not only his smile, but overall quality of life — it was time to get to work.
We want you to look at the closeup images (of the photos on the right) of Andrew's completed smile transformation.
Why are we showing you closeups?
We want you to notice the detail that is possible with this type of dental treatment to give our patient a smile makeover using the full ability of the art and science of modern dentistry. This type of transformation includes our patient, our laboratory artist, and our dental team working closely together to create and achieve phenomenal results.
Understand, these photos are not filtered, altered, or touched up in any way. We feel that showing true closeup photos of our patient's smile – before and after treatment – displays the level of care and detail that we provide our patients. Andrew's smile spotlights the art and science of the cosmetic dentistry options that we offer at the offices of Thomas L. Anderson, DDS and Associates. We encourage people to compare the results you see here and in other Smile Spotlight cases that we've featured with the results of other cosmetic dentists that you may be considering.
Clearly, the results of Andrew's transformation is that of an incredibly beautiful, not to mention dazzling, natural, pearly white and confident smile!
Outcome:
Andrew loves his new smile!
We placed 10 porcelain veneers to Andrew's upper teeth and 8 porcelain veneers to his lower teeth! He LOVES to Smile now and his wife LOVES HIS SMILE TOO! Check out the difference in his actual smile in the photos:
The before photos (pictures on the left): his teeth were showing wear from grinding, dark staining and gaps were forming between his teeth. As well as chips, fractures and cracking causing his teeth to look uneven. However, the biggest reason he was ready for a change is because his teeth and his smile appeared to age him; his smile looked much older than that of a 24 year old man.
The after photo (pictures on the right): show Andrew's transformed smile! His hand-crafted porcelain veneers  were customized to create a brighter, natural-looking, more symmetrical and youthful smile. Notice how healthy his teeth, gums and smile look AND how natural his teeth look. We all agreed that even Andrew's whiskers looked better!!!
Just because life takes a natural toll on our smiles, doesn't mean that we have to like it OR that we have to live with it! A smile transformation, like Andrew's, is a long-term solution — not a short-term fix.
Related Article: Are You Ready for a Porcelain Veneer Smile Upgrade?
Close-up pictures of actual dentistry are important when evaluating your selection for a dentist because it allows patients to look at actual teeth and treatment before and after under magnification. This allows them to assess and judge if the dental treatment being provided meets with their expectations.
Often, we use dental photography and chair-side mockups to show patients how much their smiles need a little improvement. By showing and educating patients, especially male patients, that fixing their teeth is not just for women, that it brings physical and psychological benefits to them, as well as benefits to their wellbeing. One of the things we do as dentists is to help create a sense of confidence through the way they project themselves through their life … with their spouse, their children, their family, friends, career and through their daily activities. It's an incredible transformation to witness.
Reasons to Enhance & Restore Your Smile
We have a lot of patients who want to enhance their smile with restorative and cosmetic dentistry treatments, including porcelain veneers, for reasons that include  a better public image and career advancement; however, our smile is a characteristic of who we are as a person. When we see many of our patients for the first time, they don't like to smile, they're ashamed of their teeth because they're dark, stained, chipped, broken, or missing. Their teeth have made them feel uncomfortable, inhibited, old, and embarrassed for a short period of time or for as long as they can remember. And that's not ok.
Let's briefly talk about Andrew's smile on a needs-based perspective: Andrew needed to take care of his teeth, because of the grown down, fractured and chipped edges that were going to continue to get worse over time.
Many men actually need veneers, but they often times give a variety excuses that include:
"I'm too old."
"I don't care how I look."
Sometimes our patients have a difficult time justifying spending money on cosmetic dentistry that they see as unnecessary or frivolous. We can think of lots of ways we don't really need to spend money. But not when we talk to our patients about the health of their smile. Maybe the outcome of these treatments seems cosmetic, because your smile will be beautiful, but we're restoring your smile to the way it should be: Healthy.
Below are 5 dangers of ignoring a C

hipped Tooth

:
1. You could cut your tongue
This is the least severe consequence of choosing to ignore a chipped tooth. Because the break is usually not clean when a chip comes away from the body of the tooth, it can leave the area jagged and sharp. You could end up accidentally cutting your tongue on it, causing yourself unnecessary pain.
2. Pressure sensitivity
Having a chip in your tooth is dangerous to your health because it can expose the nerve of your tooth. Cracks are often due to a cavity, so the tooth is already weakened, agitated and compromised, to begin with.
The decay has weakened the density, which is why it usually cracks in the first place. The tooth is no safer from further damage after it chips the first time. Putting pressure on a cracked or chipped tooth, even a little bit could cause immense pain.
3. Temperature sensitivity
While temperature is not direct pressure on the tooth, it can still cause immense pain. Because the outer structure is no longer functional, the root of the tooth is exposed. It is extremely sensitive to temperature, so drinking cold water could cause pain.
This also applies to hot food and beverages. Hot tea could cause shooting pain to the root of the tooth. This makes it hard to eat or drink.
4. You could cause the tooth to break altogether
Because a chip exposes the inner section of a tooth, the fracture leaves the root of your tooth exposed. This structurally weakens the tooth and, because of that, it makes the tooth liable to completely break.
If you chew something hard, you could escalate the chipped tooth into a broken tooth. A broken tooth is much worse and requires more treatment to fix.
5. You could cause an infection
Since a seriously chipped tooth often leaves the inner structure of the tooth exposed, it is more vulnerable to cavities and infections. You could damage the nerve of the tooth or an abscess can even form, which is extremely dangerous to your health.
Cosmetic Dentistry can Restore Your Smile
In the spirit of healthy, bright smiles, let's chat about treatments for men how cosmetic dentistry can restore your smile. The way you look can affect your self-esteem, your career, love life, etc. Improving the look and feel of your smile can give you that confidence boost in all aspects of your life.
At Thomas L. Anderson and Associates, we offer multiple cosmetic dentistry treatments for men that can also restore your smile:
Professional Teeth Whitening: Remove those old stains without the risk of sensitivity that over-the-counter whitening treatments can bring. Professional teeth whitening will brighten your smile effectively and without any sensitivity or prolonged treatment. Professional teeth whitening can remove stains that have infiltrated deeper into the enamel, making your teeth sparkling white! Studies have also shown that people with white smiles are perceived as successful, happier, and more intelligent.
Invisalign Invisible Braces: By wearing a series of clear, plastic Invisalign retainers or aligners, your teeth can be moved to a more ideal position and is excellent for closing gaps, or spaces between teeth, as well as straightening crowded teeth. Sometimes within just one year or less! With minimal interference to your daily habits and lifestyle Invisalign can have a significant positive impact on how you look and feel about yourself. We'd like to share why We Choose Invisalign (Your Smile is NOT a DIY Project).
Porcelain Veneers: Cosmetic dentistry has come a long way – no more dark lines at the gum-line, no more unnatural tooth colors. We use state of the art techniques to give you a natural, beautiful smile with the help of porcelain veneers. Dental veneers are manufactured to resemble an improved version of your natural teeth. They are typically made from an ultra-thin porcelain material and are made to match the look and feel of your real teeth. You'll want to check out our article: Everything You Need to Know About Porcelain Veneers
Dental Crowns: Crowns are custom made to fit over your whole tooth after it has been prepared. They are usually made out of acrylic or porcelain and can withstand biting pressure. Crowns can be used in cosmetic dentistry to treat teeth that are poorly shaped, badly decayed, broken, chipped, or have had large fillings, or to cover spaces in between teeth. Learn how Dental Crowns are Used in Restorative and Cosmetic Dentistry.
Tooth Bonding: Bonding is the process in which tooth-colored materials are adhered (bonded) to the tooth. This is a procedure that can be used to repair or improve the appearance of a tooth that has been badly stained, broken, or chipped.
Learn More about the types of dental services and treatments we offer HERE.
Here are a couple of Smile Spotlights we've created with our male patients:
We have many more stories to share … just ask us!!
We Can Help You Restore Your Smile!
We understand that enhancing your smile makes you look great on the outside,  feel great love on the inside, and prevents future problems from tooth fracture and tooth loss. And … we love to help our patients love their smile. Let's find out if cosmetic dentistry can restore your smile. Contact us to schedule your appointment.
Contact us today to schedule your dental appointment and meet with our skilled dentists at one of our three conveniently located dental office locations within the Kansas City area, including Lee's Summit / Independence, the Country Club Plaza and Downtown Kansas City. The gentle dentists and expert team at Thomas L. Anderson and Associates look forward to working with you to treat your dental emergency, achieve proper oral health and a beautiful smile that will last a lifetime. If you have any questions about your dental insurance benefits, please do not hesitate to contact us.  We are happy to review your policy! Please give us a call today to schedule an appointment and become part of our dental family.