Smile Spotlight: Amy | Veneers Transform Teeth Grinding Damage
CASE STUDY | Teeth Grinding
Patient: Amy, 35 Years
Problem: 20 Years of Grinding Her Teeth and doesn't like her smile
Solution: 4 Porcelain Veneers + Nite Guard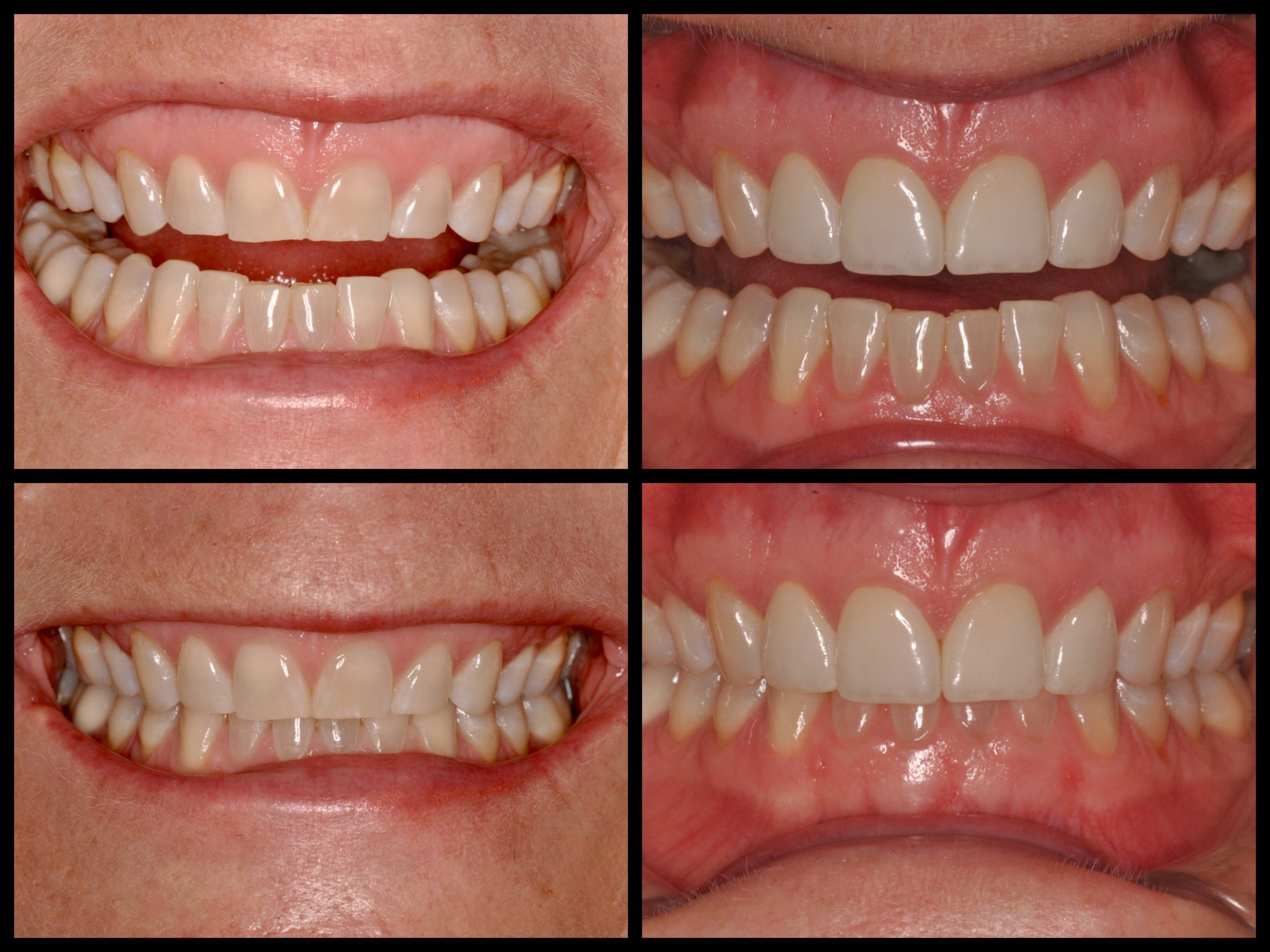 We'd like to introduce you to Amy…
Problem:
Amy is a long-time patient of ours. We've told Amy for years that she grinds her teeth, and we need to implement a solution to save her smile. Finally, after years of having this conversation, Amy caught herself grinding her teeth while she was driving. Excessive teeth grinding or clenching is also called Bruxism.
Solution:
Amy called and scheduled an appointment for a Smile Consultation and discussed porcelain veneers on her 4 upper, front teeth. She was worried that her smile would look thick, bulky and fake because several of her friends have gotten crowns or veneers and now their smile doesn't look natural.
To alleviate Amy's concerns, we decided to do a trial run and place sample veneers. In the upper-right photo, Amy saw how her new smile could look! Notice the difference between her actual smile, in the upper-left photo versus the sample veneers on the right. WOW!! Amy was shocked! She had NO IDEA that she had worn down her teeth to that degree; of course, over the course of 20 years, it's not noticeable.
You can see that Amy's smile preview is beautiful and natural. The color isn't too white, but looks like her real teeth, but slightly lighter. And they have a 3-dimensional look to them, instead of looking flat.
Process:
Planning a smile is of paramount importance in all cases; however, it was critical to help ease Amy's concerns and fears about her treatment. We wanted to know how Amy wanted her smile to appear and learned that she wanted a lighter-colored, younger-looking, natural smile. Thru the art and science of dentistry and very careful planning, we were able to alleviate her concerns because Amy was able to preview her smile; test drive it ahead of time to see the difference. Needless to say, Amy loved her smile preview and we moved forward with her treatment.
Outcome:
We placed 4 porcelain veneers to Amy's upper, front teeth and she LOVES Her Smile! See the difference in her actual smile in the lower photos:
The before photo (bottom left picture): her teeth were showing yellowing and browning. This is caused because of the friction that is incurred by grinding; the teeth became less translucent to light giving her smile a darker, more solid, and less youthful color.
The after photo (bottom right picture): her smile is transformed! Her customized and hand-crafted porcelain veneers have created a whiter, natural, more youthful smile.
Now that Amy is aware that she grinds her teeth, she wears a Nite Guard to keep her teeth safe while she's sleeping. Knowing that driving can trigger her to grind her teeth, Amy chews sugarless gum. We see Amy and her beautiful smile when she visits our office for regular dental exams and re-care appointments. Needless to say, she smiles the entire time!!
Related Article: Are You Ready for a Porcelain Veneer Smile Upgrade in 2021?
Let's Talk About Amy's Teeth Grinding
We'd like to walk you through the process of how Amy finally realized that she was grinding her teeth:
Amy came in for her 6-month dental exam and cleaning. We told her that she is grinding her teeth. She said, "I don't grind her teeth." …several years went by.
Amy came in for her 6-month dental exam and cleaning. We told her that she is grinding her teeth. She said, "I think I might grind my teeth, but it's no big deal." …several years went by.
Amy came in for her 6-month dental exam and cleaning. We told her that she is grinding her teeth. She said, "I know I do."
One day, out of the clear blue, Amy called our office and said, "I caught myself grinding my teeth while I was driving today. I was looking in the rearview mirror and noticed that I was grinding my teeth together. I want to do something about my smile. I want to have nice teeth." …we scheduled Amy's Smile Consultation Appointment.
It's not just Amy, we have a lot of patients that have the same problem – whether they notice it or not, we can tell what's happening during dental exams and we can help you fix it.
Related Article: Symptoms and Causes of Bruxism (Teeth Grinding)
People Aren't Aware
Oftentimes, people are unaware that they grind their teeth. It is an insidious and gradual motion that leads to the yellowing and browning of the teeth, due to the friction. Over time, the teeth become less translucent to light, leading to a darker, more solid, less youthful color. Ground down, dark teeth are the icon of old age and are especially unappealing.
As a dentist, it's interesting … when I tell a patient that they have a cavity that needs to be filled or the beginning of gum disease that needs to be treated, they become very concerned and want to move forward with treatment. They know that either of these issues, left untreated, will progressively get worse and create bigger problems down the road.
Over time:
An untreated cavity will only grow larger and eventually lead to additional treatment being necessary that may include a dental crown or the tooth needing to be extracted and a partial denture or implant needing to replace their natural tooth.
If the beginning or early stages of gum disease is detected, but is left untreated, healthy pink gums can recede causing slight bone loss. Eventually more bone loss and gum tissue is destroyed and teeth become loose and fall out, only to need tooth replacement.
Wouldn't it have been easier to get that small cavity filled or take the necessary precautions to treat the early stages of gum disease, by removing the plaque build up that is causing your gums to be tender and bleed when you brush your teeth?
Related Article: "Mask Mouth" Increases Tooth Decay and Gum Disease
Now You Know
If you've visited our office and learned during your dental exam that you're grinding your teeth – NOW YOU KNOW! The last thing you want to do is brush it off, like it's no big deal. Teeth grinding is not natural and we assure you that grinding away your precious enamel IS a Big Deal! It's important that you treat grinding problems with the same diligence that you would a cavity or gum disease.
Most people can't tell they are grinding their teeth. Many people grind while they're sleeping and unless it wakes their partner, they never know unless they wake up with a sore jaw or crack a tooth – or visit our office and we can tell during their dental exam.
The results of teeth grinding are never good. The wear and tear on your teeth is gradual, but it will only get worse without treatment. Here's an analogy: It's like watching a tree grow. Nothing seems to be happening, but after 20 years pass, you can tell the difference.
We Can Help Protect and Restore Your Smile
If you're grinding your teeth, let us help you protect your smile with a Nite Guard. It's a custom-made dental appliance that you wear while you're sleeping to keep your teeth from touching, clenching AND grinding.
That's why scheduling dental appointments every 6 months is so critical – we can help you catch these issues while they're still small, before they do too much damage.
However, if it's been a while since you've had a dental exam and you're concerned that you may need some help. Don't worry. The expert team at the offices of Thomas L. Anderson, DDS and Associates are  here to help you! Our goal is to help our patients have a smile that is healthy and beautiful.
Schedule your appointment to meet with any of our skilled dentists at one of our three conveniently located dental office locations within the Kansas City area, including Lee's Summit / Independence, the Country Club Plaza and Downtown Kansas City. The gentle dentists and expert team at Thomas L. Anderson and Associates look forward to working with you to treat your dental emergency, achieve proper oral health and a beautiful smile that will last a lifetime. If you have any questions about your dental insurance benefits, please do not hesitate to contact us.  We are happy to review your policy! Please give us a call today to schedule an appointment and become part of our dental family.