Tricks for Your Halloween Treats: How to Safely Enjoy Halloween Candy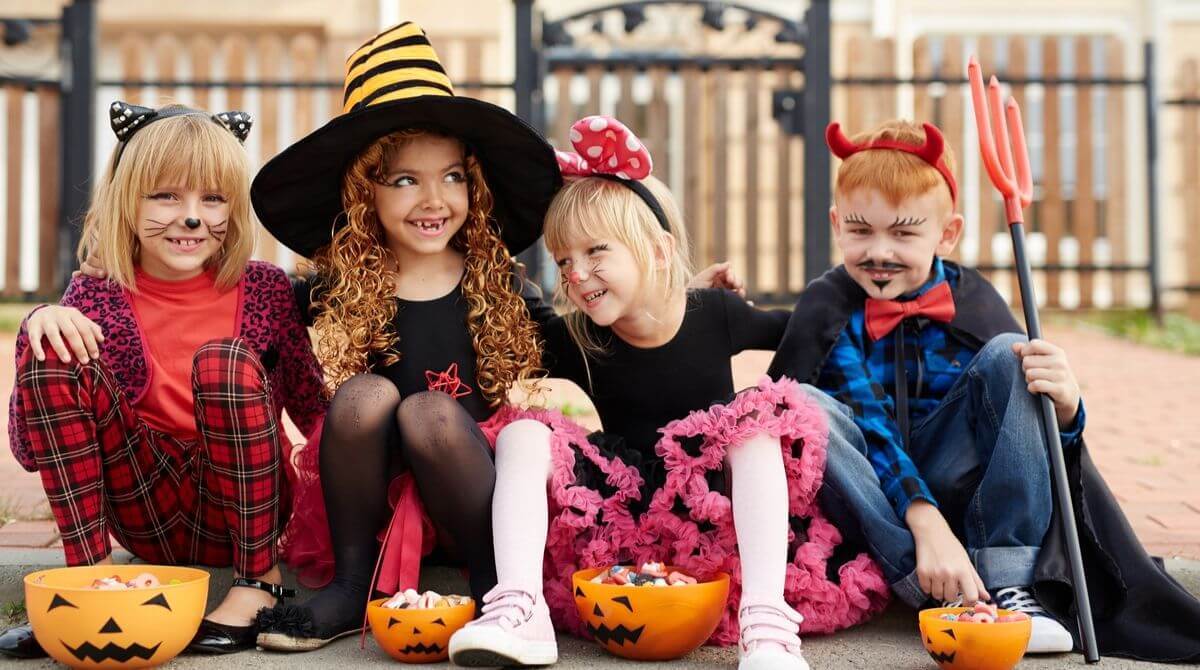 Knowing how much candy to consume can be a tricky subject for parents, but it's actually the perfect excuse to start talking about the importance of oral health! It's all about balance and having a plan this Halloween so that you and your kids can stay cavity-free while making the most of this special day. Remember, brushing and flossing after sweet treats is a big key to keeping your mouth healthy and safe.
Click HERE for your Halloween Candy Survival Guide.
Safely Enjoy Halloween Candy: Remove Sugar After Treats
Did you know that your mouth produces more saliva around mealtimes? Saliva is super helpful in washing away bacteria in your mouth, so planning on eating a sweet treat around a mealtime helps wash away bacteria even more. Don't snack on candy throughout the day but indulge in a sweet treat after a meal instead. The longer the sugar is in your mouth, the longer is can cause decay.
Whatever amount of sugar you or your child consumes, it's extremely important to brush and floss after sweat treats. A brand-new toothbrush and floss as a Halloween gift are a great way to get your children excited about brushing their teeth after candy. Candy can easily get stuck in-between teeth and cause tooth decay, cavities, and other oral health problems. Young children may need help with these steps.
Related Article: Health Risks of Gum Disease: Healthy Teeth are more than a Pretty Smile
Tips for Halloween Candy: 5 Tricks for Dealing with Halloween Treats
Safely Enjoy Halloween Candy: Make a Halloween Candy Plan
Don't go overboard with Halloween candy – create a plan ahead of time so you can have a plan surrounding all that candy coming in. Maybe you set the limit of houses you visit or fill a smaller bag. You can also have your kids parcel out candy as "trade ins" for other rewards (a toy, sticker, tv time, etc.). Whatever you feel comfortable with, it's so helpful to create rules and a plan before the Trick-or-Treating begins, so everyone knows their expectations and can enjoy the day! This is also the perfect opportunity to talk about the importance of limiting sugary treats and oral health.
Related Article: Children's Dental Health: Tips to Keep Teeth Strong and Healthy
Safely Enjoy Halloween Candy: Stick with Chocolate
Sticky candies, like gummies, caramels, taffys, etc., stick to your teeth more than soft candies, like chocolate. They are much harder to brush away and should be avoided.
As we just mentioned, sticky sweet treats can cause the most damage to your teeth. Dental experts recommend chocolate for a sweet treat. According to MouthHealthy.org, "Chocolate is one of the better candies because it washes off your teeth easier than other types of candy. Dark chocolate also has less sugar than milk chocolate."
Get more tips for a Healthy Halloween HERE.
We want YOU to Have a Safe Halloween!
It's okay to enjoy Halloween to the fullest and enjoy some sweet treats! It's all about dressing up, having fun, and enjoying a day away from the norm. Remember to brush and floss after enjoying your sweet treats!
Schedule your appointment to meet with any of our skilled dentists at one of our three conveniently located dental office locations within the Kansas City area, including Lee's Summit / Independence, the Country Club Plaza and Downtown Kansas City. The gentle dentists and expert team at Thomas L. Anderson and Associates look forward to working with you to treat your dental emergency, achieve proper oral health and a beautiful smile that will last a lifetime. If you have any questions about your dental insurance benefits, please do not hesitate to contact us.  We are happy to review your policy! Please give us a call today to schedule an appointment and become part of our dental family.