Health Risks of Gum Disease: Healthy Teeth are more than a Pretty Smile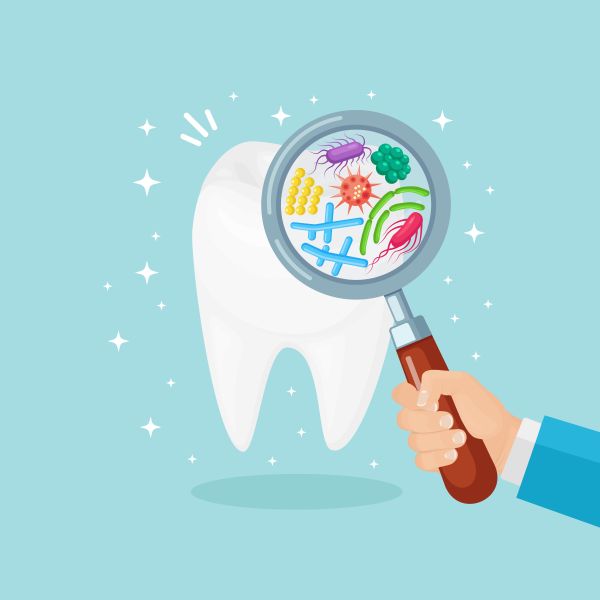 What does gum disease and oral bacteria have to do with a pretty smile? Your oral health has a major effect on the overall health of your body, not just in your mouth. By maintaining healthy teeth and gums, you can make your body healthier from head to toe.
Oral Bacteria and Health
Bacteria in the mouth cause tooth decay – by feeding on the sugars in the foods and drinks we consume – they leave behind the waste, in the form of a biofilm known as dental plaque. 
Our mouths have lots of bacteria that is usually harmless. (Did you know that the bacteria in our body aids with digestion and other biological tasks?) However, if you do not brush or floss regularly, oral bacteria can reach dangerously high levels. When this happens, tooth decay, gum disease, and oral infections can be the nasty result.
What is Gum Disease?
Periodontal (gum) disease is an infection of the tissues that hold your teeth in place. It's typically caused by poor brushing and flossing habits that allow plaque — a sticky film of bacteria — to build up on the teeth and harden.
In most cases, the development of periodontitis starts with plaque — a sticky film composed mainly of bacteria. If left untreated, here's how plaque can eventually advance to periodontitis:
Plaque forms on your teeth when starches and sugars in food interact with bacteria normally found in your mouth. Brushing your teeth twice a day and flossing once a day removes plaque, but plaque re-forms quickly.
Plaque can harden under your gumline into tartar (calculus) if it stays on your teeth. Tartar is more difficult to remove and it's filled with bacteria. The longer plaque and tartar remain on your teeth, the more damage they can do. You can't get rid of tartar by brushing and flossing — you need a professional dental cleaning to remove it.
Plaque can cause gingivitis, the mildest form of gum disease. Gingivitis is irritation and inflammation of the part of your gum tissue around the base of your teeth (gingiva). Gingivitis can be reversed with professional treatment and good home oral care.
Ongoing gum inflammation can cause periodontitis, eventually causing pockets to develop between your gums and teeth that fill with plaque, tartar and bacteria. In time, these pockets become deeper, filling with more bacteria. If not treated, these deep infections cause a loss of tissue and bone, and ultimately you may lose one or more teeth. Also, ongoing chronic inflammation can put a strain on your immune system.
Health Risks of Gum Disease Throughout the Body
There is evidence that the oral bacteria and high level of inflammation associated with the serious gum disease known as periodontitis can play a role in diseases in other parts of the body.
The following health issues and diseases are linked with poor gum health:
Cardiovascular Diseases: There are researchers who suggest that heart disease, stroke and clogged arteries are linked to the inflammation and infections caused by too much oral bacteria.
Infections from Abscesses: In some rare instances, severe tooth decay can lead to an abscess. The infection can travel to the heart, brain, or lungs, causing severe illness or even death.
Endocarditis: This is an infection of the inner lining of the heart. This can occur when bacteria from other parts of your body, such as your mouth, move through your bloodstream and become attached to damaged areas in the heart.
Pregnancy and Birth Complications: Severe gum infection has been linked to premature births and low birth weight.
 The Impact of Gum Disease
Did you know that 85% of Americans suffer from gum disease, yet only 60% of those infected know they have gum disease? Gum disease is an infection of the tissues and bone that support your teeth and is the leading cause of tooth loss. However, the impact can extend beyond your mouth.
Also known as periodontitis, gum disease can significantly affect your general health.
Research shows that there is a connection between gum disease and other serious conditions such as:
osteoporosis
oral and pancreatic cancer
brain stroke
heart disease
gum disease may be linked to Alzheimer's disease and other forms of dementia from oral bacteria that spread through the blood stream
gum disease also impacts those with diabetes by making it difficult to regulate blood glucose levels
If you have one of these systemic conditions, it is important to talk to your dentist about your risk for gum disease and the best treatment options.
Causes of Gum Disease:
Hormonal changes such as those occurring during pregnancy, puberty, menopause, and monthly menstruation, make gums more sensitive, which makes it easier for gingivitis to develop.
Illnesses may affect the condition of your gums. This includes diseases such as cancer or HIV that interfere with the immune system. Because diabetes affects the body's ability to use blood sugar, patients with this disease are at higher risk of developing infections, including periodontal disease and cavities.
Medications can affect oral health, because some lessen the flow of saliva, which has a protective effect on teeth and gums. Some drugs, such as the anticonvulsant medication Dilantin and the anti-angina drug Procardia and Adalat, can cause abnormal growth of gum tissue.
Bad habits such as smoking make it harder for gum tissue to repair itself.
Poor oral hygiene habits such as not brushing and flossing on a daily basis, make it easier for gingivitis to develop.
Family history of dental disease can be a contributing factor for the development of gingivitis.
Additional Causes:

Sugar and acid
Tooth abnormalities
Poor dental work
Wisdom teeth
Tooth grinding
Symptoms of Gum Disease:
Healthy gums are firm and pale pink and fit snugly around teeth. Signs and symptoms of periodontitis can include:
Swollen or puffy gums
sensitive or receding gums
Bright red, dusky red or purplish gums
Gums that feel tender when touched
Gums that bleed easily
Pink-tinged toothbrush after brushing
Spitting out blood when brushing or flossing your teeth
sensitive teeth
Bad breath
Pus between your teeth and gums
Loose teeth or loss of teeth
Painful chewing
New spaces developing between your teeth
Gums that pull away from your teeth (recede), making your teeth look longer than normal
A change in the way your teeth fit together when you bite
Sometimes there are no signs of gum disease, which is why it's essential to visit your dentist every six months for a checkup.
How Does My Dentist Diagnose Gum Disease?
During a dental exam, your dentist typically checks for these things:
Gum bleeding, swelling, firmness, and pocket depth (the space between the gum and tooth; the larger and deeper the pocket, the more severe the disease)
Teeth movement and sensitivity and proper teeth alignment
Your jawbone, to help detect the breakdown of bone surrounding your teeth
Gum Disease Treatment
Can gum disease be cured?
The disease is still reversible at this stage, and can usually be eliminated by careful daily brushing and flossing. In the more advanced stages of gum disease, called periodontitis, the gums and bone that support the teeth become seriously damaged.
How Is Gum Disease Treated?
The goals of gum disease treatment are to promote reattachment of healthy gums to teeth; reduce swelling, the depth of pockets, and the risk of infection; and to stop disease progression. Treatment options depend on the stage of disease, how you may have responded to earlier treatments, and your overall health. Options range from nonsurgical therapies that control bacterial growth to surgery to restore supportive tissues. A full description of the various treatment options is provided in Gum Disease Treatments.
reducing inflammation
decreasing the space between your tooth and gum (pocket depth)
stopping bone loss
Initial treatment options can include Laser Pocket Disinfection or scaling and root planning (also known as deep cleaning). There are surgery options for advanced gum disease.
Protecting Your Oral Health
By protecting the health of your teeth and gums, you can keep yourself healthier too. Practice good oral hygiene daily to prevent overgrowth of oral bacteria.
This includes:
Brushing your teeth at least twice per day
Floss daily to remove plaque between teeth
Limit sugary snacks, which can feed bacteria and increase their growth
Avoid tobacco use, as this can cause irritation in your gums
Replace your toothbrush every three or four months
Prevention
The best way to prevent periodontitis is to follow a program of good oral hygiene, one that you begin early and practice consistently throughout life.
Good oral hygiene. That means brushing your teeth for two minutes at least twice daily — in the morning and before going to bed — and flossing at least once a day. Flossing before you brush allows you to clean away the loosened food particles and bacteria. Good oral hygiene prevents the development of an environment around your teeth that is favorable to specific bacteria that cause periodontal disease.
Regular dental visits. See your dentist or dental hygienist regularly for cleanings, usually every six to 12 months. If you have risk factors that increase your chance of developing periodontitis — such as having dry mouth, taking certain medications or smoking — you may need professional cleaning more often.
Before you begin to encounter health risks of gum disease throughout your body. If you notice a problem with your teeth or gums, call for an appointment right away. The sooner these are handled, the sooner you will be back to full health. Our highly skilled and gentle dentists provide general and family dentistry in the Kansas City area to keep our patients healthy – including healthy teeth, healthy gums, and a healthy body. Time for your checkup? Call to schedule today.
Contact us today to schedule your dental appointment and meet with our skilled dentists at one of our three conveniently located dental office locations within the Kansas City area, including Lee's Summit / Independence, the Country Club Plaza and Downtown Kansas City. The gentle dentists and expert team at Thomas L. Anderson and Associates look forward to working with you to treat your dental emergency, achieve proper oral health and a beautiful smile that will last a lifetime. If you have any questions about your dental insurance benefits, please do not hesitate to contact us.  We are happy to review your policy! Please give us a call today to schedule an appointment and become part of our dental family.