Take Advantage of Those Dental Insurance Benefits Before 2018 is Over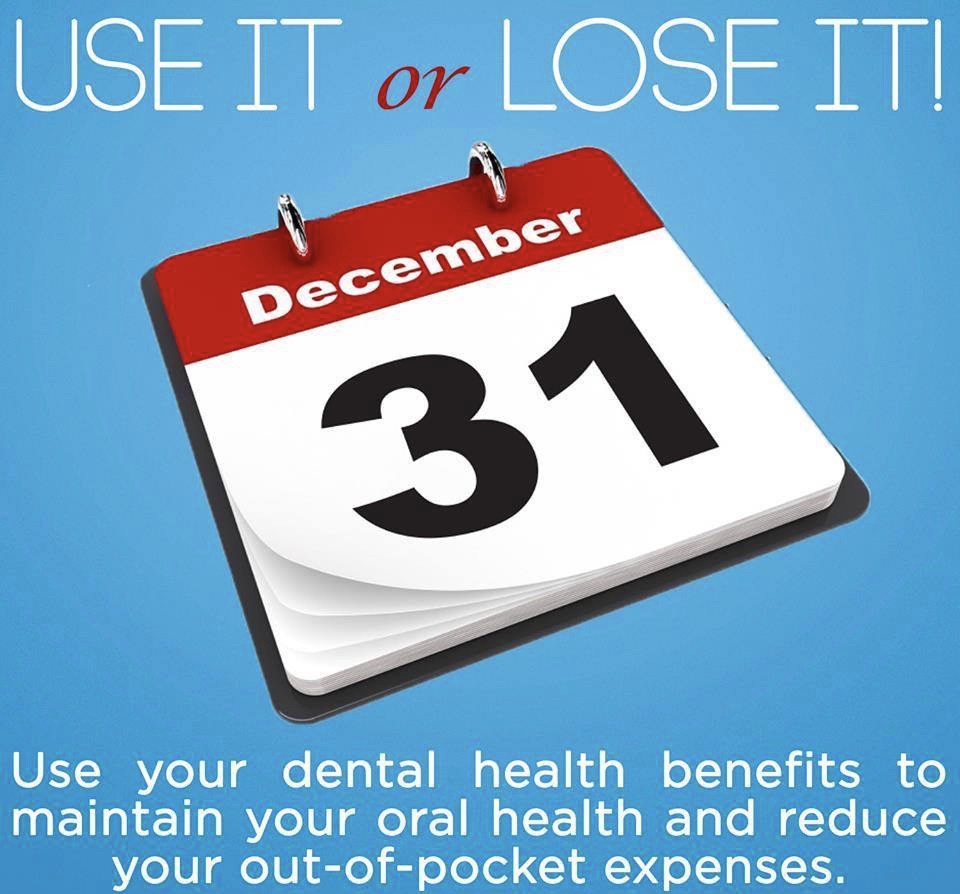 This year may have flown by for you, but don't forget to capitalize on those dental insurance benefits before 2018 comes to an end. After all, you're a working person who has many responsibilities, and your oral health, no matter how vital, tends to get overlooked. If you let your dental insurance benefits expire, as they will by December 31, any dental procedures you need will be much more expensive. If you still have dental insurance benefits to use up, don't wait until the year is done to visit the dentist.
Dental Insurance Benefits Don't Roll Over into a New Year
People usually receive dental insurance benefits through an employer. Once you buy a dental insurance plan, you and your employer are paying a premium, meaning you're spending money in advance. Once you don't see your dentist, those benefits become something you paid for but never had services rendered.
If you think that you can use your benefits when the calendar changes, think again. Many insurance companies issue December 31 deadlines for benefit use. For most plans, that means any unused benefits don't roll over into the New Year. Some policies end earlier in the year, and some employers will grant you a grace period to use up the benefits. But the bottom line is that you risk losing all the perks you're eligible for by waiting until the last minute to claim them.
Related Article: Is full coverage dental insurance the perfect dental insurance?
How Do You Make the Most of Your Benefits?
It helps to use your coverage early on. If you've been putting off any dental treatment, such as a cleaning or braces, now is the time to do it. The summer or autumn are ideal times to address your dental needs before the year runs out, getting everything out of the way before the holiday season comes along.
Various dental insurance plans also give full coverage for preventive visits that address potential oral health issues before they become severe. Now would be the best time to schedule your appointment so that you can head into the last months of 2018 with good health. Visiting your dental office sooner rather than later enables you to avoid adverse teeth conditions such as gum disease or damaged teeth.
If you require more extensive dental treatments, which can combine multiple visits and procedures, doing it at the end of the year might be the wisest possible move. By year-end, you may have already reached your deductible and haven't hit your annual maximum. After paying that deductible, your out-of-pocket expenses decrease, making such treatments more affordable.
Related Article: What to Expect During Your Dental Appointment
Work With Your Dentist
By going to Thomas L. Anderson DDS and Associates, we can work with you to arrange the best treatment plan for your needs and dental insurance coverage. You can split your treatment between this year and next, allowing you to use your remaining benefits in 2018 and capitalize on renewed benefits in 2019.
Book your next dental appointment in Kansas City with Thomas L. Anderson DDS and Associates and maximize your dental insurance benefits now!
Thomas L. Anderson and Associates are here to help you improve your smile!  Contact us immediately or schedule your appointment to meet with any of our skilled dentists at one of our three conveniently located dental office locations within the Kansas City area, including Lee's Summit / Independence, the Country Club Plaza and Downtown Kansas City. The gentle dentists and expert team at Thomas L. Anderson and Associates look forward to working with you to treat your dental emergency, achieve proper oral health and a beautiful smile that will last a lifetime. If you have any questions about your dental insurance benefits, please do not hesitate to contact us.  We are happy to review your policy! Please give us a call today to schedule an appointment and become part of our dental family.