Trick Or Treat: The Best & Worst Halloween Candies for Your Teeth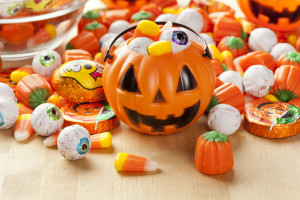 Gear up for Halloween with your little ghosts and ghouls by knowing which candy is dentist-approved and which kinds can cause major havoc on teeth. At Thomas L. Anderson and Associates, we want all our friends, family, and patients to have a few treats and enjoy their Halloween!
Learn more: Your Halloween Candy Survival Guide
Chocolate is Best
Halloween candies and your teeth are a tricky subject. When it comes to having a yummy treat at the end of a night full of trick-or-treating, we recommend sticking to softer candies, such as chocolate. Chocolate bars are soft, melt in the mouth as they warm up, and can easily be washed off after eating. Chocolate doesn't often get stuck in-between the teeth or in crevices around the mouth. When you brush your teeth before bed, you can remove any chocolate residue left in your mouth. That's a big advantage to eating chocolate as opposed to other candies! After you or your kiddos eat a chocolate bar, make sure to rinse your mouth with a drink of water to maximize cleanliness.
Related Article: More on Chocolate and Teeth
What Treats Should You Avoid?
When deciding which candies are dentist-approved and are best for your dental health (or better than other choices), remember to look out for these treats which can cause decay and other dental issues:
Sour candies
Gummy or sticky candies
Hard candies
Taffy candies
Each of these types of candies can easily get stuck on your teeth and are hard to remove from in-between your teeth. Hard candies can cause crowns to break and are especially hard on your enamel. Sour candies have high acid levels and can cause erosion and bacteria in your mouth. When candy takes a long time to eat, more bacteria is being formed in your mouth and acid levels rise, causing decay.
Related Article: Worst Candies for Your Teeth
Moderation is Key
Halloween candies and your teeth — moderation is key. Like most things in life, balance is key for a healthy balance! While everyone wants to enjoy a fun and safe Halloween, it's good to remember to not consume an abundance of treats. Too many treats can cause dental issues and other issues like an upset stomach. This Halloween, keep a close eye on your young ones and monitor their candy intake – their teeth will thank you for it! 
Contact us today to schedule your dental appointment and meet with our skilled dentists at one of our three conveniently located dental office locations within the Kansas City area, including Lee's Summit / Independence, the Country Club Plaza and Downtown Kansas City. The gentle dentists and expert team at Thomas L. Anderson and Associates look forward to working with you to treat your dental emergency, achieve proper oral health and a beautiful smile that will last a lifetime. If you have any questions about your dental insurance benefits, please do not hesitate to contact us. We are happy to review your policy! Please give us a call today to schedule an appointment and become part of our dental family.