Are You a Candidate: Tooth Replacement with Dental Implants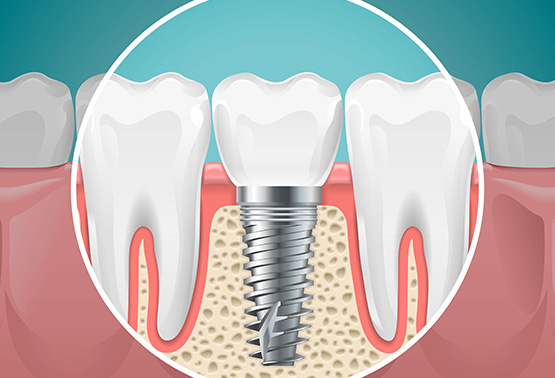 Choosing tooth replacement with dental implants to restore missing teeth will be one of the best decisions you ever make for your smile! In fact, dental implants are the next best thing to your natural teeth, and provide a healthy, natural-looking smile by filling in any gaps. You can experience the stunning results from dental implants right here at Thomas L. Anderson and Associates. We're committed to the highest-level of restorations and we use the best dental technology available to give you a healthy and beautiful smile that you'll love.
Dental Implants in a Nutshell
If you're unfamiliar with dental implants, they're basically replacement tooth roots made from titanium. After the decay and infection of any teeth are cleaned out, a dental implant is placed in the jaw so your natural bone can fuse with the new, artificial implant.
This makes a durable and sturdy foundation for a crown, denture, or bridge to be placed on top of the implant for long-lasting results. Each restoration will be custom-made to fit your mouth and specific smile goals. The tooth/teeth will be color-matched to your surrounding teeth and even the texture will closely resemble your real teeth! This means you get natural looking and feeling results, every time, making dental implants a real advantage in restorative options.
More information about Dental Implants.
Are You a Candidate?
You may be wondering if you're a candidate for dental implants. If you're missing one or more teeth, tired of dealing with dentures, partials, and bridges, then dental implants may be a wonderful option for you! Let's take a deeper look at what we'll look for when considering if dental implants are the best option for you.
Candidates need to have healthy gum tissue
Sufficient bone density in the jaw is required to support your implant
If you've suffered from bone loss, you may not be excluded from dental implants – bone grafting may be a great option here
Tobacco use or chronic health conditions, such as diabetes, may interfere with your healing process
We will carefully assess your individual needs to determine what restorative treatment plan is best for you and discuss every possible outcome and option with you as well.
What does WebMD have to say about Dental Implants? Learn More HERE.
3 Phases when getting a Dental Implant:

First, Dr. Anderson surgically places the implant into the jawbone. He may recommend a diet of cold foods and warm soup and soft foods during the healing process.
Second, the bone around the implant heals. What makes an implant so strong is that the bone actually grows around it and holds it in place and can take some time. Some patients can have the implants and replacement teeth placed all in one visit. While other patients might need to wait until the implant is completely integrated, up to several months, before replacement teeth can be attached to the implant.
Finally, it's time for the placement of the artificial tooth/teeth.

For a single tooth implant, Dr. Anderson will customize a new tooth for you, called a dental crown. The crown will be based on size, shape, color and fit, and will be designed to blend in with your other teeth.
If you are replacing more than a single tooth, custom-made bridges or dentures will be made to fit your mouth and your implants.
Note: The replacement teeth usually take some time to make. In the meantime, your dentist may give you a temporary crown, bridge or denture to help you eat and speak normally until the permanent replacement is ready.
Learn More about the Dental Implant Procedure.
Why Dental Implants Are So Popular?
Aesthetically, they look just like a healthy tooth; but they also keep the jaw bone stable. If you leave a missing tooth and don't replace it, over time the jaw bone will disappear. Of course, this can lead to functional problems. Not to mention an aesthetic problem with your face. Because the jaw bone is what supports your cheeks, so the loss of it can lead to small changes, such as deepening expression lines in the face, or ultimately having the look of a collapsed jaw, all causing you to take on a more aged appearance!
Dental implants allow you to be able to chew your food without issue, including fresh fruits, vegetables and nuts. They are easier to care for too; dental implants can be cared for the same way as natural teeth, with a toothbrush and floss.
We've talked about a lot, but we haven't mentioned the greatest, most life changing reason for tooth replacement with dental implants…
Implants are a permanent solution!
How wonderful is this? Ask any patient that had conventional dentures and decided to have dental implants placed for better support and they will tell you it was the best decision they've ever made!!
Move forward with the best option for tooth replacement!
If you are interested in tooth replacement with dental implants, it's a good idea to discuss it carefully with Dr. Anderson first. If you are in good general health this treatment may be an option for you. In fact, your health is more of a factor than your age. You may be medically evaluated by a physician before any implant surgery is scheduled. As we've discussed, chronic illnesses, such as diabetes or leukemia, may interfere with healing after surgery. Patients with these issues may not be good candidates for implants. Remember, using tobacco can also slow healing.
At the offices of Thomas L. Anderson and Associates, we like to use the treatment with the highest rate of success and studies show that a dental implant is just that. However, care must be taken to ensure that the area the implant is to be placed is in an area in good health. There are a lot of considerations and Dr. Anderson and his expert team of dental professionals can help you make the best decision on this life-changing treatment. To schedule a consult, please contact us today.
Contact us today to schedule your dental appointment and meet with our skilled dentists at one of our three conveniently located dental office locations within the Kansas City area, including Lee's Summit / Independence, the Country Club Plaza and Downtown Kansas City. The gentle dentists and expert team at Thomas L. Anderson and Associates look forward to working with you to treat your dental emergency, achieve proper oral health and a beautiful smile that will last a lifetime. If you have any questions about your dental insurance benefits, please do not hesitate to contact us.  We are happy to review your policy! Please give us a call today to schedule an appointment and become part of our dental family.