QUESTION: Are You Ready for a Smile Makeover?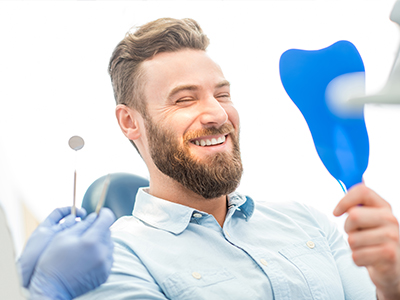 A smile makeover is exciting. It can completely change the look of your smile and give you a huge boost in confidence. Essentially, a smile makeover is using one or more procedures to enhance the look of your smile. These procedures may include a few different enhancement and restorative services provided by Thomas L. Anderson and Associates, such as:
Porcelain veneers: thin, wafer-like shells that are bonded to the top of your teeth and improve the appearance of your teeth.  Learn more HERE.
Invisalign invisible braces: clear aligners that straighten your teeth. What's the difference between Braces and Invisalign? Learn more HERE.
Professional teeth whitening: removing stains on your teeth.
Dentures: removable appliances that replace teeth.
Dental implants: artificial tooth roots and crowns.
Crowns and bridges: A dental crown is a type of dental restoration which completely caps or encircles a tooth or dental implant.
Related Article: Reinvent Your Smile with a Smile Makeover
What Does a Smile Makeover Help With?
Many enhancement services, such as veneers, invisible braces, and implants can help with functionality, as well as a beautiful appearance. A complete smile makeover can target:
Misalignment: Both porcelain veneers and Invisalign aligners target misaligned or crooked teeth. Invisalign aligners will move the teeth you have and put them into proper alignment over the span of a few weeks or months. Porcelain veneers can fix crooked teeth by putting the new shell on top of the crooked tooth. Veneers can be put on a single tooth, or multiple teeth.
Missing teeth: Missing teeth can take away from your youthful appearance and make you look older than you are; thy can also increase the risk of decay. Dental implants, bridges, and dentures are wonderful ways to restore your full smile.
Discolored teeth: Years of stains can take a toll on the whiteness of your teeth. Professional whitening services go above and beyond over-the-counter remedies and remove stains from within the tooth. Porcelain veneers can also be used to improve dull, discolored teeth, all while looking natural and bright.
Want to see examples of some of these procedures? Check out this slideshow from WebMD!!
With every restorative and enhancing treatment, it's important to know how big of an impact good oral hygiene is. With every treatment, you'll receive the best, and longest lasting results when you stick to a daily hygiene routine and regularly check in with your dentist.
Although a smile makeover can give you the smile of your dreams, your health habits can change how long they last. When you undergo a smile makeover and keep up with your regular cleanings, you'll have a smile you can be confident and proud of forever! At Thomas L. Anderson and Associates, we will work closely with you to help you reach your smile goals and create a treatment plan customized for you.
Contact us today to schedule your dental appointment and meet with our skilled dentists at one of our three conveniently located dental office locations within the Kansas City area, including Lee's Summit / Independence, the Country Club Plaza and Downtown Kansas City. The gentle dentists and expert team at Thomas L. Anderson and Associates look forward to working with you to treat your dental emergency, achieve proper oral health and a beautiful smile that will last a lifetime. If you have any questions about your dental insurance benefits, please do not hesitate to contact us.  We are happy to review your policy! Please give us a call today to schedule an appointment and become part of our dental family.