Perfect your Wedding Day Smile with Professional Teeth Whitening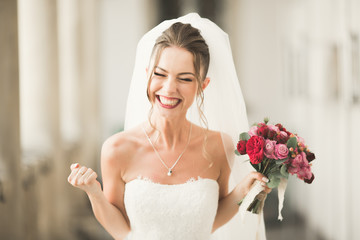 Cake, cocktails, conversation, dancing, and the bride's beautiful dress. All items that usually come to mind when we think of the perfect wedding, no matter the season. Every bride strives for the perfect bridal glow, and, along with the glow, a great, pretty smile. Feeling confident in your smile is essential to the perfect wedding day, and a professional teeth whitening service from Thomas L. Anderson, DDS and Associates can help you achieve your wedding day bliss.
Although your schedule leading up to the wedding may be jam-packed, taking the time for your oral health can make all the difference on the big deal and it's an important step to not miss. Just as pampering your nails or hair, professional teeth whitening and perfecting your smile can impact your self-confidence, and your photos, for the wedding.
Say "Yes!" to the best professional teeth whitening service
Although there are numerous over-the-counter whitening products that may seem quick and easy, the truth is, those methods aren't effective and can cause serious sensitivity to your gums and lips. Professional tooth whitening services are completed by professionals and are customized to each individual; removing the stress of sensitivity or lackluster results. Your dentist will use a protective gel around your gum and mouth to eliminate the possibility of sensitivity, and you can work with your professional to achieve your desired whiteness.
Professional teeth whitening services are also quick, usually lasting an hour, and provide results that are long lasting and effective. No more uncomfortable whitening strips or switching your toothpaste.
Read more: 9 Tips for Perfect Wedding Day Teeth
Biggest advantage
The best part of getting a professional whitening done is the flawless results that cannot be achieved by other methods. This is because professional whitening tackles both types of tooth stains:
Intrinsic Stains – These stains live between the micro-cracks in your enamel and deep under the enamel.
Extrinsic Stains – These stains appear on the surface of your teeth and are easier to remove.
Only professional-level whitening can tackle both types of stains and remove those deep, intrinsic stains that other products can't touch.
Learn more here about tooth stains and how to prevent them. h
With a bright, confident smile, you're sure to light up and showcase your true beauty and happiness at your upcoming wedding. At Thomas L. Anderson, DDS and Associates, we love helping you achieve your perfect smile and we know the results will boost your confidence and enhance your self-esteem. Give us a call today to schedule your quick whitening appointment.
Contact us today to schedule your dental appointment and meet with our skilled dentists at one of our three conveniently located dental office locations within the Kansas City area, including Lee's Summit / Independence, the Country Club Plaza and Downtown Kansas City. The gentle dentists and expert team at Thomas L. Anderson and Associates look forward to working with you to treat your dental emergency, achieve proper oral health and a beautiful smile that will last a lifetime. If you have any questions about your dental insurance benefits, please do not hesitate to contact us. We are happy to review your policy! Please give us a call today to schedule an appointment and become part of our dental family.