Is there such a thing as a fun dentist?
Can going to the dentist really be "fun"?
The majority of people will probably answer with a resounding "no!" Ask them to recall their experiences going to the local dentist and many will describe walking into a small waiting area with the silhouette of a person behind a frosted glass window.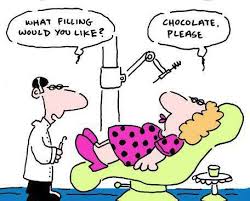 You ring the bell and as the glass slides open the unwelcoming receptionist hands you a stack of forms to fill out and coldly closes the window. While you wait, you would read old dog-eared magazines or pamphlets to try and take your mind off the clinical smell of antiseptic and the cheesy Musak songs that fill the air. Suddenly, fear is added to the discomfort when you are forced to listen to the moans (and sometimes screams) of the patients that are already being treated in the dental office.
Having gone to the dentist all of my life and then graduating dental school in 1986, I knew that going to the dentist was not "fun". My experiences with dentistry were my inspiration for creating an environment that would be enjoyable for the patient as well as the dental team. In short, I set out to make dentistry fun while helping people achieve healthy, confident smiles.
So I thought, "What do people want and look for in a dentist?" A caring dentist? A friendly dentist? A gentle dentist? A fun dentist?
For more than 25 years at Thomas Anderson and Associates, we have been the dentists that have all these qualities and more. But one quality you may not commonly think of when choosing a dentist is for them to have the ability to not take themselves too seriously. We absolutely take dental health seriously, but we like to take an approach to dentistry makes the patient feel like they are hanging out with friends. To accomplish this goal and to be the best dentists, we know we have to have the best dental team! We pride ourselves in having a dental team that truly cares for the patient and works hard to keep the patient comfortable and happy. This is the most important ingredient for making a fun dental practice. We feel we have created an environment at our dental office that is fun to go to for the dentists, staff and most importantly, for the patients!
Our offices today look, feel, sound and smell completely different from the past. No more stone faced receptionists hiding behind a sliding glass window. Reception areas are now bright and spacious with comfortable chairs, relaxing music, refreshment areas, fresh flowers, and a personable receptionist that knows your name and smiles when greeting you. Our dental treatment areas are designed to have less of a clinical feel with modern comforts like headphones for music or the DVD movies playing on the ceiling t.v., cushy chairs and warm lemon scented towels and refreshing mouth rinses. We work so hard to make our patients have as relaxing a time as possible, that it would be easy to forget they are also getting the best dental care available!
So are you now wondering "is there is a fun dentist near me?" The answer is "yes!" Our philosophy of dentistry has allowed us to open three offices in the Kansas City Metro Area for your convenience. Hopefully, you, like many others, will come and experience our practical, friendly and fun approach to dental health. Going to the dentist may never be on the top of any ones "fun" list of things to do, but with the right approach, it does not have to be miserable and you may find that it can actually be fun. Come see just how fun dentists can be!