Clear Aligners Available for Adults & Teens: Invisalign Kansas City Plaza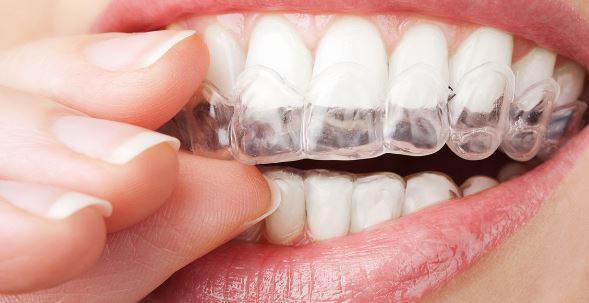 Author: Tanner Neeland, DDS
Invisalign is an Alternative to Traditional Braces
Invisalign clear aligners is a great tool that has been growing in popularity over the past ten to fifteen years. It is a great option for people who want to straighten their teeth, but do not necessarily want to do it the traditional way via braces with wires and brackets. Invisalign Kansas City Plaza can be used to correct simple forms of misalignment like minor relapses after previous orthodontic treatment. It can also treat more severe forms of malocclusion like severe crowding or deep bites that may compromise your self-confidence and the health of your teeth. 
Invisalign aligners are virtually invisible, so patients do not have to worry about metal braces affecting their smile. They are made of clear, smooth plastic, making them discreet. Another great thing about Invisalign is that the aligners are removable. That means patients can take them out when they eat, drink, or brush their teeth. Invisalign Kansas City Plaza aligners are also comfortable to wear. They are custom-made to fit each patient's teeth, and they don't have any metal wires or brackets that can irritate their mouths. Plus, they gradually shift teeth into place, so the process is usually more comfortable than traditional braces.
One common misconception many people believe is that having misaligned teeth will not cause any detrimental effects to their teeth if they take care of them properly. This is incorrect. Misaligned teeth can lead to several issues like gum recession, bone loss leading to loose teeth, chipping or breaking teeth, and cavities.
Therefore, the benefits of Invisalign clear aligners range from obvious like the ease of use and comfort to less obvious like prevention of bone loss and breakage of teeth. Every person can benefit from Invisalign Kansas City Plaza in some way or another!
At the offices of Thomas L. Anderson, DDS and Associates, all four doctors are well trained in Invisalign clear aligners and have many successful cases under their belts. We all use state of the art technology to create individualized treatment sequences to make the Invisalign Kansas City Plaza process go as smooth as possible for each patient.
Related Article: Invisible Braces can Restore Your Confidence
The Invisalign Process  
The process begins the same way for most patients. We start with an initial exam where we get to know you, discuss goals, realistic treatment times, and the overall process more in depth. Next, we take our records where we use a scanner to create a three-dimensional model of your mouth and take some photos. No goopy, bad tasting material shoved in your mouth like they did in the past! 
Following this appointment, we work closely with Invisalign and our team to develop a unique and individualized plan for our patient. We review this plan with our patient and make any tweaks the patient or doctor may want. Then, we send the final plan back to Invisalign Kansas City Plaza and they start fabricating the aligners. 
When we get the aligners back from Invisalign, we place the tooth-colored attachments on the patient's teeth and give them their first 3-5 aligners. We usually have our patients wear each aligner for 1-2 weeks and have appointments every 6-8 weeks to watch and over-see their progress. Slowly but surely, the teeth come into a healthy and aesthetically pleasing alignment!
Related Articles:
Please call 816-373-4440 to schedule your initial visit & learn more about Invisalign Clear Aligners
Contact us today to schedule your dental appointment and meet with our skilled dentists at one of our three conveniently located dental office locations within the Kansas City area, including Lee's Summit / Independence, the Country Club Plaza and Downtown Kansas City. The gentle dentists and expert team at Thomas L. Anderson and Associates look forward to working with you to treat your dental emergency, achieve proper oral health and a beautiful smile that will last a lifetime. If you have any questions about your dental insurance benefits, please do not hesitate to contact us.  We are happy to review your policy! Please give us a call today to schedule an appointment and become part of our dental family.