Invisalign Independence Dentists can Help You Straighten Your Smile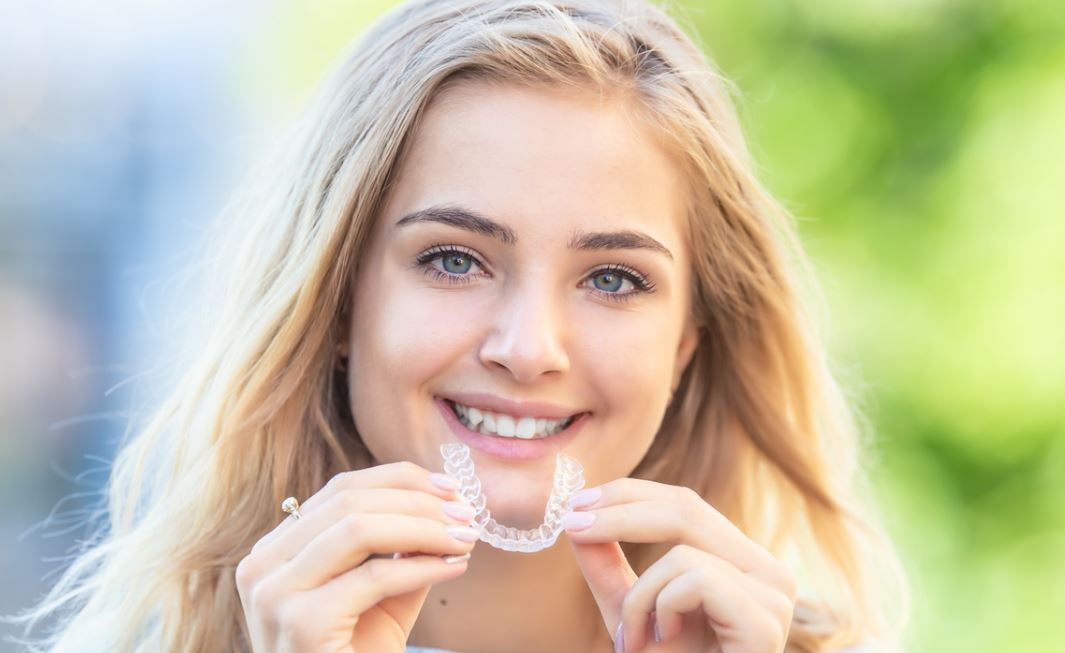 Author: TANNER NEELAND, DDS
Invisalign is a popular orthodontic treatment that offers an alternative to traditional braces for both adults and teenagers. It is designed to correct misaligned smiles, including issues such as crooked teeth, overcrowding, overbites, underbites, and gaps between teeth and is offered by Invisalign Independence Dentists.
Invisalign Independence Dentists Love Technology
Invisalign Independence Dentists have a great tool that has been growing in popularity over the past ten to fifteen years. It is a great option for people who are wanting to straighten their teeth, but do not necessarily want to do it the traditional way via braces. Invisalign Independence Dentists can use this technology to correct simple forms of misalignment like minor relapses after previous orthodontic treatment. It can also treat more severe forms of malocclusion like severe crowding or deep bites that may compromise your self-confidence and the health of your teeth. A majority of those who live in the Independence, MO area are younger than the age of 50. The earlier in life you decide to straighten your teeth with Invisalign, the easier the process is, so check it out ASAP!
Why is Invisalign Teen So Popular AND Effective?
Invisalign can be easier when you're younger for a few reasons.
The younger you are, the more flexible and adaptable your teeth are, making it easier for them to move into the desired positions.
Younger folks usually have less severe orthodontic issues. Since Invisalign is great for mild to moderate cases, it can work wonders for those who just need a little adjustment. Plus, starting treatment earlier can prevent more serious problems down the road.
Another perk is that a lot of people often have a more active lifestyle. Invisalign aligners are removable, which means you can take them out for sports, music practice, or even a special event. It gives you the freedom to enjoy all the things you love without worrying about metal braces.
Lastly, let's not forget about confidence! Younger individuals tend to be more self-conscious about their appearance, so Invisalign's clear aligners can be a game-changer. They're practically invisible, so you can straighten your teeth without drawing too much attention. Your Invisalign Independence Dentists can help you smile with confidence!
Learn more about Invisalign Teen.
Invisalign Can Correct Misalignment and An Imperfect Bite
Now, let's discuss why Invisalign Independence Dentists feel this technology is important for resolving malocclusion. Malocclusion is a dental term that means misalignment of teeth and an imperfect bite. Malocclusion is something that can actually harm people. This is what we will discuss next – the potential consequences of living with malocclusion.
First off, malocclusion can affect your oral health. When your teeth don't align properly, it can make it harder to clean them effectively. This can lead to an increased risk of tooth decay, gum disease, and bad breath. Many individuals in their later years who have had malocclusion their whole life deal with loose and broken teeth. A big reason why this happens is because of their imperfect bite. Furthermore, these people usually have other medical issues that develop as they age, making treatment to resolve their loose and broken teeth more challenging. Nobody wants that, right?
But it doesn't stop there! Malocclusion can also cause some discomfort and pain. Uneven pressure on your teeth and jaws can lead to headaches, jaw pain, and even problems with your temporomandibular joint (TMJ).
Key Features and Advantages of Invisalign
Here are some fantastic features of Invisalign Clear Aligners that are making traditional braces a thing of the past:
Clear Aligners: Invisalign uses a series of clear, custom-made aligners that are nearly invisible when worn. This feature makes Invisalign a discreet option for individuals who prefer not to have noticeable braces.
Customized Treatment: Each set of Invisalign aligners is customized to the patient's specific orthodontic needs. As the treatment progresses, patients switch to a new set of aligners that gradually move their teeth into the desired positions.
Comfortable: Invisalign aligners are made from smooth, comfortable materials that reduce irritation and discomfort often associated with traditional braces. There are no metal wires or brackets that can cause abrasions or sores in the mouth.
Removable: Invisalign aligners are removable, which means patients can take them out when eating, drinking, brushing, and flossing. This makes it easier to maintain good oral hygiene and enjoy a broader range of foods during treatment.
Convenience: Invisalign appointments are typically less frequent than with traditional braces. Patients receive several sets of aligners at a time, reducing the need for regular office visits.
No Dietary Restrictions: Since Invisalign aligners are removable, there are no dietary restrictions. Patients can eat their favorite foods without worrying about damaging their orthodontic appliances.
Predictable Results: Invisalign treatment uses advanced 3D imaging technology to plan and predict the movement of teeth. Patients can have a clear understanding of the expected treatment outcome.
Shorter Treatment Time: In some cases, Invisalign treatment may be shorter in duration compared to traditional braces, although the exact treatment time varies based on individual needs.
Improved Oral Health: Correcting misaligned teeth with Invisalign can contribute to improved oral health by reducing the risk of dental issues associated with crooked or crowded teeth, such as gum disease and cavities.
Aesthetic Appeal: Invisalign aligners are discreet, making them an appealing choice for individuals who want to maintain their natural smile aesthetics during treatment.
It's important to note that Invisalign is not suitable for all orthodontic cases, and the suitability of this treatment should be determined by your Invisalign Independence Dentists. They will assess the patient's specific needs and discuss the most appropriate treatment options.
Invisalign has become a popular choice for individuals seeking orthodontic correction while maintaining comfort, aesthetics, and flexibility during their treatment journey.
New Technology and Old-School Techniques
At Thomas Anderson, DDS and Associates, all four Invisalign Independence Dentists are well trained in the technology of Invisalign and have many successful cases under their belts. They all use state of the art technology to create individualized treatment sequences to make the Invisalign process go as smoothly as possible for each patient.
At your Invisalign Independence Dentists office, we are not locked into a single way of thinking. Our doctors span the spectrum from old school to new way. Regardless, state of the art technology is used when it is deemed to be the best choice, but sometimes the older techniques have withstood the test of time for good reason.
For more advanced procedures, like Porcelain Veneers or full-mouth crowns, advanced artistic and craftsmanship skills as well as digital oral photography are required. Rest assured that these Invisalign Independence Dentists will be able to meet and exceed your expectation for higher quality service and care.
We Also Offer Family Dentistry in Independence, MO
We are a family dentistry office and we see patients from children, to adolescents, to adults. Not only are we located in Independence, MO and have an incredible team, we want to treat your family and we want to treat you like family. We would never recommend a treatment for one of our patients that we wouldn't recommend to one of our very own family members. We understand that many people have had less than stellar dental experiences and that is why we make it our goal to be accommodating to each of our patient's unique needs.
The offices of our Invisalign Independence Dentists can take care of any of your dental needs whether they're preventative, restorative or cosmetic. We also offer lunch-time appointments for those who like to schedule during their work day. We make it easy to slip in a dental appointment without having to take a day off work … no one wants to take a "vacation day" to visit the dentist!
We recognize that all of our patients are unique and deserve to receive dental care that reflects their individual needs. Our experienced and talented dentists are committed to working with you and your family to create a stress-free, comfortable, and rewarding dental experience every time you visit our Independence dentists.
We Believe: Everyone Should LOVE Their Smile!
We love to improve the smiles of our patients – because we love to see them smile! From dental exams to complete smile makeovers that include various cosmetic dentistry options – the professional team at the offices of Thomas L. Anderson, DDS and Associates are constantly fine-tuning their craft through the art and science of dentistry to deliver the results their patients want. Dr. Anderson and his Independence, MO dental team take the time to consult with each patient and understand what they like and do not like about their smile and what they envision as the result they want. Dental treatment options are discussed, questions are answered, and the process begins with the healthy smile of their dreams as the result. Please schedule your dental exam and cleaning appointment by calling us at 816-373-4440. We look forward to meeting you!
We Can Help You Achieve the Smile of Your Dreams!
We believe everyone should love their smile and have access to affordable dental care. Learn more about the services we offer to all ages and contact us to book your appointment or schedule your dental appointment. We are currently accepting new patients and we look forward to meeting you and helping you maintain, improve or enhance your smile!
Please call 816-373-4440 to schedule your initial visit with your Invisalign Independence Dentists & learn more about Invisalign Clear Aligners
Contact us today to schedule your dental appointment and meet with our skilled dentists at one of our three conveniently located dental office locations within the Kansas City area, including Lee's Summit / Independence, the Country Club Plaza and Downtown Kansas City. The gentle dentists and expert team at Thomas L. Anderson and Associates look forward to working with you to treat your dental emergency, achieve proper oral health and a beautiful smile that will last a lifetime. If you have any questions about your dental insurance benefits, please do not hesitate to contact us.  We are happy to review your policy! Please give us a call today to schedule an appointment and become part of our dental family.