Did You Know That April is Oral Cancer Awareness Month?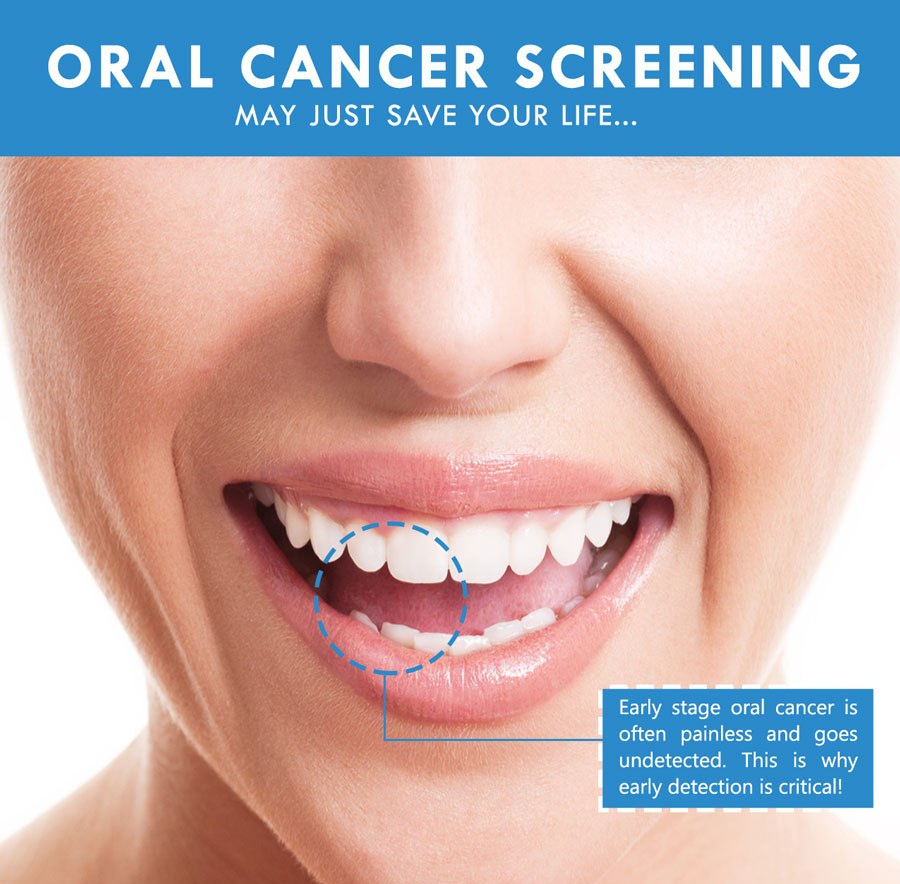 Most people are unaware that more than 43,000 people are diagnosed with some form of oral cancer each year. April is Oral Cancer Awareness Month, and the dental team at the offices of Thomas L. Anderson and Associates join health professionals across the nation to promote awareness of this serious health issue.
We hope that you and your family take this opportunity to learn more about the risk factors associated with oral cancer. And rest assured, at every dental hygiene appointment our team screens your mouth for oral cancer.
WHAT IS ORAL, OR MOUTH CANCER?
Simply put, oral cancer is a type of cancer that affects the structures within the human mouth. As with many other types of cancer, everyone is at risk of developing oral cancer, but there are certain behaviors that can elevate that risk.
Links have been made between the use of tobacco products and oral cancer, especially use of chewing tobacco.
Alcohol use is also believed to increase the risk of oral cancer, especially when combined with tobacco use.
New research has linked human papilloma virus (HPV) and mouth cancer, and it is believed that HPV will soon become the leading cause of oral cancer.
Excessive chewing of the Betel Nut
What is a Betel Nut? … The information I discovered is disturbing:
Betel nuts are found across Asia, growing in palm trees. They're used so widely, they're one of the most popular mind-altering substances in the world. People chew on the nut and the leaf together to get high. Supposedly, it's like a combination of tobacco and a lot of caffeine.
When they are chewed, the nuts give user a rush of stamina and euphoria. Excessive chewing causes discolored or even loss of teeth and oral cancer. Unfortunately, they're not very difficult to purchase in the U.S. because they are not illegal or banned at this time.
Even though the betel nut is not a controlled substance, it can be illegal to import, especially wholesale. They can be dangerous, and the World Health Organization has labeled the betel nut as a carcinogen.
WHAT ARE THE SIGNS OF ORAL CANCER?
Any time that you notice an unusual condition within your mouth, the best course of action is to schedule an appointment with your dentist. The early signs of oral cancer can seem benign, such as:
A small but painless sore that is slow to heal
Areas of red or white discoloration
Areas where mouth tissue has undergone changes in texture
Difficulty in normal mouth functions such as speaking, eating or swallowing can also be a sign of oral cancer
WHAT SHOULD I DO IF I NOTICE THESE SIGNS?
The best approach is to schedule an appointment to have your dentist take a closer look. Oral health professionals are often the first care providers to notice the early signs of oral cancer and other types of oral disease. If your dentist is concerned, he or she can refer you to a specialist for additional screening.
At the offices of Thomas L. Anderson and Associates, oral cancer screenings are performed at each cleaning appointment. We believe that the best way to ensure great oral and dental health is by taking a proactive stance. This includes:
Implementing and maintaining healthy habits
Scheduling regular dental checkups
Coming in for additional screening when any abnormality is detected
By being aware of issues such as oral cancer, patients can get the screening necessary to ensure that they remain healthy.
Related Article: What to Expect During Your Dental Appointment
Additional Oral Cancer Resources:
Contact us today to schedule your dental appointment and meet with our skilled dentists at one of our three conveniently located dental office locations within the Kansas City area, including Lee's Summit / Independence, the Country Club Plaza and Downtown Kansas City. The gentle dentists and expert team at Thomas L. Anderson and Associates look forward to working with you to treat your dental emergency, achieve proper oral health and a beautiful smile that will last a lifetime. If you have any questions about your dental insurance benefits, please do not hesitate to contact us.  We are happy to review your policy! Please give us a call today to schedule an appointment and become part of our dental family.