Oral Health for Children: Dental Sealants Protect Teeth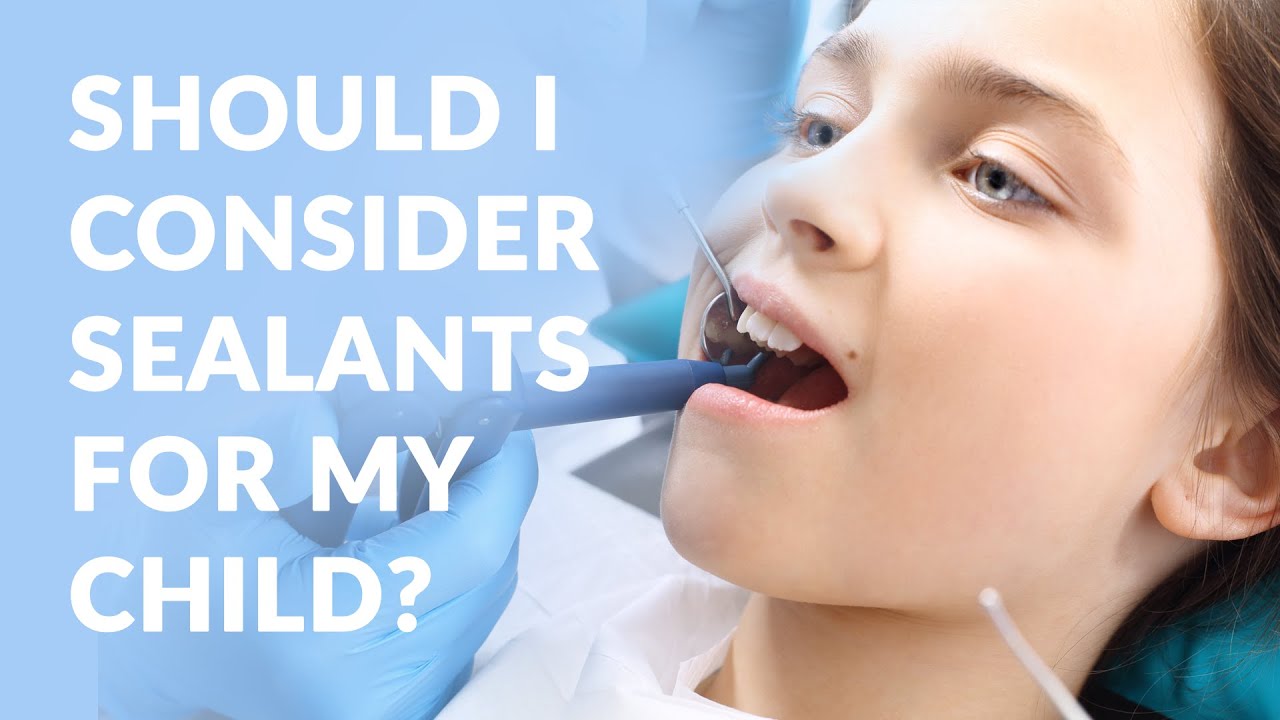 Sometimes you have to just bite the bullet and give your kiddos a piece of candy to get through the afternoon. We've all done it and been there a time or two. However, with kids consuming more sugar in their everyday diets, especially when drinking juice and sodas good oral health is more important than ever, and it's hard to always reach every nook and cranny when your children are brushing and flossing. Thankfully, dental sealants protect teeth and are a great way to give added safety to your children's mouths and protect them from cavities due to sugar and other factors.
What are Sealants and How do They Work?
Sealants are thin, protective coatings made from plastic and other oral-safe materials that adhere to the surface of your back teeth and molars – where brushing and flossing is hardest to reach. Although dental sealants protect teeth, they don't completely stop cavities from happening, but they are a good protection layer than can help stop decay. This stoppage is because the sealants help keep bits of food and bacteria from settling on your teeth. Still, nothing beats good brushing and flossing!
According to the American Dental Association, dental sealants for kids can reduce the risk of tooth decay by up to 80%. This means that children without sealants are three times more likely to get a cavity.
Here are some Tips to Keep Teeth Strong and Healthy.
How Long do Sealants Last?
Sealants are designed to hold up against the day-to-day wear and tear of chewing and can last for several years. If a sealant isn't intact, a replacement can be made to make sure your teeth are getting the best protection from food, acids, and bacteria. Make sure to visit your dentist regularly so they can check-up on your sealants and make sure they are still in good shape. Dental sealants protect teeth in children and are also extremely safe and have no known side effects.
When Should my Child Receive Dental Sealants?
Make sure and talk with your dentist about your child's individual oral health needs, but dental sealants for kids can be given to children as young as six years old when the first molars break through. At age 12, children's second molars begin to emerge. Generally, the earlier a child gets a sealant, the better cavity protection they receive.
If your child is prone to cavities read more about how dental sealants for kids can help protect their teeth from developing cavities here.
Adults can also benefit from sealants, as they are not exclusively for children and will help protect from any further tooth decay.
Discover more about dental sealants for kids: Your KC Family Dentist Celebrates Children's Dental Health
Baby Teeth Protection
While we know about the importance of taking care of our adult teeth, tiny baby teeth and children's teeth also need good oral care to prevent bacteria and decay. It's important to implement brushing every day and help your child floss. In infants or baby teeth, it's helpful to limit the amount of sugary liquids and drink more water! Instead of sending your child to bed with a bottle full of milk, formula, or juice, use water instead. It's the safest option and this KC family dentist agrees that it doesn't include any sugary risks.
Access Family Oral Health Resources.
A Few Tips from your KC Family Dentist:
Clean your infant's gums daily. You can do this with a damp washcloth and gently wipe over the gums after each feeding to clear away bacteria.
Start a brushing routine with the appearance of their first tooth. Brush the tooth with small brush and tiny amount of toothpaste.
Once your child's teeth touch, you can begin flossing.
Replace your child's toothbrush every three to four months.
Children's Oral Health
While this year's theme may focus around dental sealants, Children's Dental Health Month is really about the importance of oral health in our children. At Thomas L. Anderson and Associates, a full-service KC family dentist practice, we're dedicated to helping families understand the importance of good dental care at an early age. In fact, the American Association of Pediatric Dentists recommends that parents find a dentist for their child as early as their first tooth loss or first birthday.
When you come and see us early on for family dentistry, we can assess your child's gums and you can ask us any questions you'd like. It's a great way to establish your child's dental routine, monitor their oral health, and implement any preventative measures.
Download posters, worksheets, and more for National Children's Dental Health Month from the American Dental Association HERE!
Related Article: Children's Dental Health: Tips to Keep Teeth Strong and Healthy
Your KC Family Dentist Wants You to have a Healthy Smile
Our goal is to help all of our patients have a confident smile that is healthy and beautiful. The offices of Thomas L. Anderson, DDS and Associates is a KC family dentist for all ages. Whether you and your family are looking for a new dentist for a dental exam, you're interested in restoring or enhancing your smile, we look forward to meeting you and having you join our dental family.
Schedule your appointment to meet with any of our skilled dentists at one of our three conveniently located dental office locations within the Kansas City area, including Lee's Summit / Independence, the Country Club Plaza and Downtown Kansas City. The gentle dentists and expert team at Thomas L. Anderson and Associates look forward to working with you to treat your dental emergency, achieve proper oral health and a beautiful smile that will last a lifetime. If you have any questions about your dental insurance benefits, please do not hesitate to contact us.  We are happy to review your policy! Please give us a call today to schedule an appointment and become part of our dental family.